No matter how much you know (or don't know) about Korea's customs or etiquette, if you arrive here with a friendly smile and a sincere and respectful attitude, you will be welcomed with open arms. Koreans are fiercely proud of their country and have good reason to be.
Until relatively recently, Korea was an insular place, existing under dynastic rule for centuries, with hundreds, some say thousands, of invasions over the centuries. However, the 35-year Japanese occupation from 1910, the split of the peninsula after WWII and the subsequent Korean War shattered all that. Difficult times have however made the Koreans a resilient lot, succeeding economically whilst still holding onto their unique traditions and fascinating culture.
Korea has four seasons, with a wet monsoon/summer in the middle of the year, and a cold winter from November to March. The island of Jeju off the southern coast is the warmest and wettest place in the country. The ideal time to visit Korea is during the autumn months (September-November). During this time, the country experiences warm, sunny weather, skies that are cobalt blue. Winters are cold and dry and are a good time to visit if you are interested in winter sports as there are numerous ski resorts. Spring (April-May) is also beautiful with all the cherry blossoms in bloom. The summer months are muggy and hot, and rather crowded.
---
DAY WISE ITINERARY
Meals: Nil
Arrive Incheon Airport (ICN) in Seoul; you are transferred to Mt. SORAK: visit the Shinhungsa Temple along with the great Bronze statue and the Gwongumsung Fortress by cable car (weather permitting), Daepo Fisher Market. Overnight in Mt.SORAK
Day 2: Mt. Sorak / Danyang:

Meals: Breakfast
*Transfer to Danyang. *Gosu Cave: a huge limestone cave formed over 450 million years ago. It is among the best known natural caves in Korea, called the "underground palace" *Chung Lake Cruise: Chungju Lake is the largest and cleanest multi-purpose reservoir in Korea. Take a cruise on the ferries along the Chungju Lake. Overnight in DANYANG
Day 3: Danyang/yeoju/Seoul:
Meals: Breakfast
*Transfer to Yeoju Green Village: experience Korean Kimchi making, KoreanTraditional Costume (Hanbok) wearing; then guests will visit the Ginseng plantation to have a chancetotaste Ginseng Juice. After that, transfer to Seoul and visit the lotte theme world with unlimitedticket. Overnight in Seoul.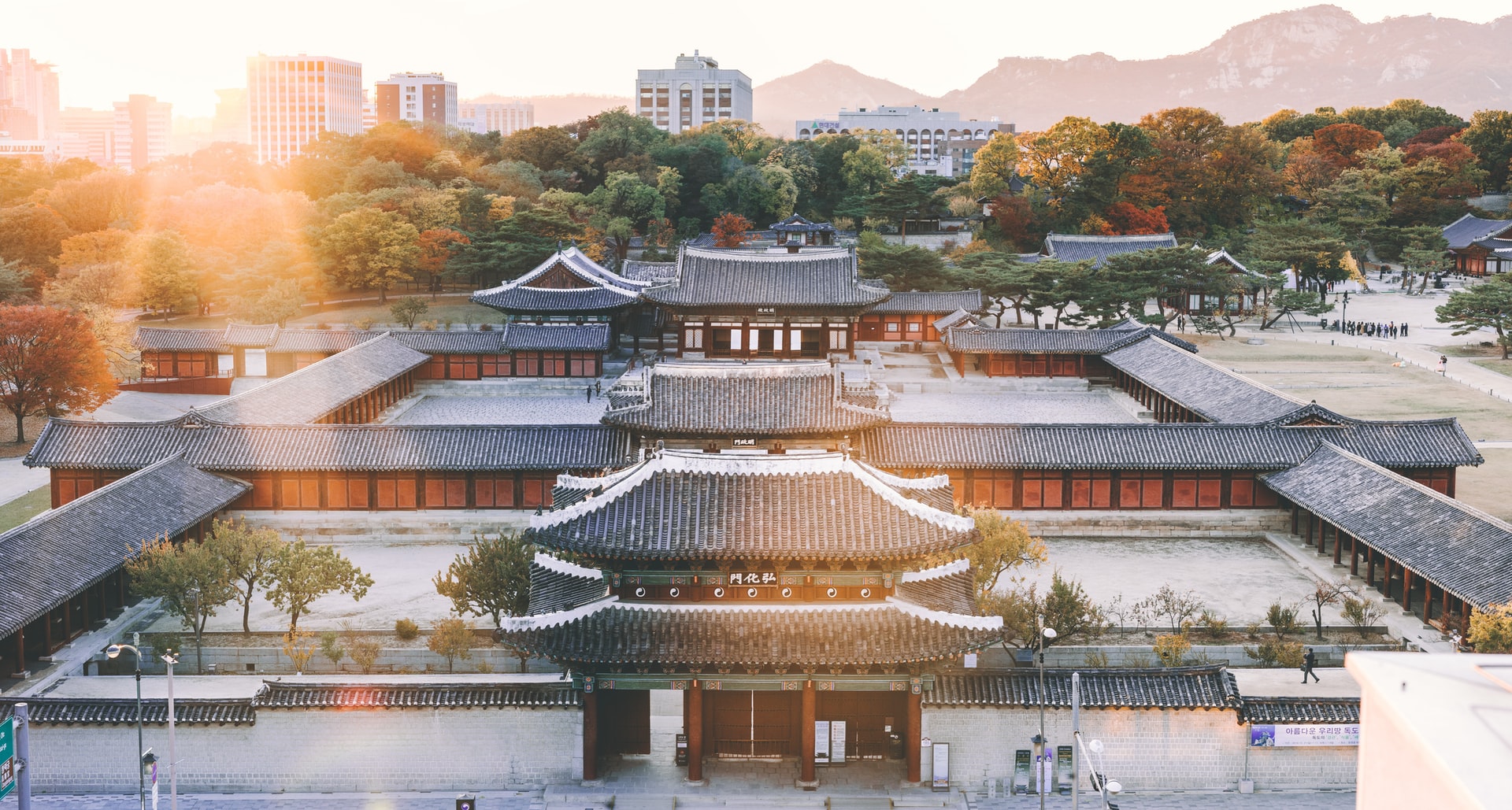 Changwadae Sarangchae (Guest house at Presidential house) is a place filled with hope and joy. You can learn about past presidents and the history of the capital, Seoul, Gyeongbokgung palace the oldest and grandest of Seoul's royal palaces, Gyeongbokgung Palace is a masterpiece of Korean traditional architecture and one of Seoul's most visited locations. Nat'l folk museum exhibiting the religious rituals, customs, food and social dynamics of traditional Korean Life. Jogye Temple is chief temple of the Jogye order which represents  the Korean Buddhism. Nat'l Ginseng outlet or Amethyst factory. Lunch (Bibimbap). Myoungdong shopping district N Seoul Tower, Asia's most beautiful tower, this tower is also where you can get the most exciting view of Seoul; it shows made by skyscrapers, inner city highways and the long bridges of Han River. Back to hotel. Overnight in Seoul
Meals: Breakfast
After the breakfast you can have some last minute shopping. Then you will be transferred to the Airport to catch your return flight
---
Places to Visit:
Seoul: 
South Korea's capital city Seoul is a sprawling metropolis of 20 million people and with one of the most massive subway systems in the world. It's a fascinating mix of old and new, with ultra-modern apartment complexes mixed in with 1000 year old temples and palaces. Koreans love to eat and drink, and tucked away in every corner are delicious, cheap restaurants and Hofs (beer and chicken pubs) that stay open to the wee hours of the morning. People here love to sing and to finish a night; they'll often head to a Norae-bang (singing room). After a few nights out in Korea, you'll understand why it's called the "Land of the Morning Calm" because the streets will be eerily silent until mid-morning.

If shopping is your thing, you can get it all here. From the most luxurious name brands in Apgujeong, Myeongdong and Gangnam to some excellent deals at Namdaemum or Dongdaemum Markets. For a bit of culture, head over to Insadong for some nice restaurants, tea-shops and souvenir shopping. To check out the nightlife, head over to Hongdae and explore Korea's Youth Culture.
Jeju Island: 
A semi-tropical island south of the mainland, Jeju is indeed a paradise. The highest mountain in South Korea, Hallasan is a challenging one-day hike. Awaiting you at the top are spectacular views and an extinct volcano crater. White sandy beaches abound at every corner, and there is spectacular scuba diving down south, near Seogwipo. Be sure to check out some of the Crater Tubes, which are massive caves created by receding Lava from Hallasan's Volcanic Eruptions.
Songnisan National Park: 
There are mountains all over Korea, and hiking is the most popular weekend activity. One of the most spectacular mountains is Songnisan National Park in central Korea. Beopjusa Temple, with a huge Gold Buddha statue is a good start to any of the hikes. At the mountain village, there are hordes of restaurants and home-stays where you can sleep the night. 1/2 way up the mountain, is a hut called Birosanjang where you can find some authentic wilderness, which is quite rare in Korea. And the hiking! Not so difficult, but with amazing views!
Seoraksan National Park: Beautiful Fall Colors 
Seoraksan National Park is Korea's most famous. It's located outside the fishing village of Sokcho, in the North-East corner of Gangwon-Do. During the peak fall seasons, it seems like 1/2 of Korea is climbing the mountain. Also in the area are some luxurious gambling resorts, rafting rivers, bungee jumping and beautiful beaches. In winter, there are some nice Ski Resorts in the area. You could spend a week or two exploring this place, so make sure you leave a few days.
Gyeongju: the Ancient Capital of the Shilla Dynasty 
A capital from the Shilla dynasty 2000 years ago, this place is filled with cultural relics at every corner. You could spend months here and not see everything. Walking down the street, or hiking up the local mountain, history is inescapable. The best way to see the sites is to rent a bicycle, get a handy tourist map and enjoy your day.
Andong Folk Village 
Andong is a small city in the South-east corner of the country. It's famous for food and right near the train station is a food street where deliciousness awaits you at every turn. The highlight of the city is the "Hahoe Folk Village." They are famous for the mask dance that happens every weekend and their 2 week long festival they hold every year in the fall. The best part is that you can sleep overnight in the village in one of the traditional houses.
The DMZ: a surreal, intense experience. 
The Demilitarized Zone (DMZ), is the border between North and South Korea. It's less than 100 km from Seoul. Things are tense, with American, South and North Korean soldiers standing at armed attention. You can't do it alone but must join up with a tour, which will take you to the tunnels that the North dug to try and sneak into the South undetected. You'll also visit an overlook and see what's happening on the other side. Check it out for a dose of the surreal.
Gongju and Buyeo: ancient capitals of the Baekje Dynasty 
The former capitals of the Baekje Kingdom, Buyeo and Gongju are tucked away in the heart of Chungnam provinces. They are filled with cultural and historical relics from 2000 years ago. Tombs, fortresses, and temples can be found at every corner. The best way to see the sights would be by car, so either rent one or get a Korean friend to take you.
Deokjeok Island: an expat beach paradise! 
Deokjeok Island is a 2 hour ferry ride from the port at Incheon. You can camp at the beach, or stay at one of the local motels. It's a beautiful, secluded kind of place and you'll be able to get your own piece of beach for the entire day. The best part is at night, having some drinks on the beach with a campfire and fireworks.
Busan: the most popular beach spot in South Korea 
Korea's second major city, Busan is down in the South-east corner of the country. It has plenty of sights to keep you occupied for days, but the top attraction is Haeundae Beach, where hordes of Koreans descend to get their summertime fun.
---
Pricing may vary from time to time dependig on season. Please consult us over Whatsapp for latest offer rate.