Trip Profile:
Mode of Trekking: Camping.
Trekking grade: Adventurous to Challenging.                                            
Trekking / Camping: 15 /16 days.
Total duration: 21 / 22 days.
Best Season: Mid April to May and Mid Sept to November.
Trip Cost: 
US$ 2,100 per person in group of minimum 1-2 pax.

US$ 1,930 per person in group of minimum 3-5 pax.

US$ 1,805 per person in group of minimum 6-9 pax.

US$ 1,665 per person in group of minimum 10-15 pax.

US$ 1,480 per person in group of minimum 16-20 pax and above
Mountaineers and backpackers enjoy this stunning adventure that treks from the remote west of Dhaulagiri to the main popular Trans-Himalayan Salt Trade route, and through Kali Gandaki Valley, the world's deepest gorge.  Our trek ends this one-of-a-kind adventure at Pokhara via the scenic route of the Annapurna region.
This fascinating adventure includes most of the trekking environments and micro-climates of Nepal.  From the fertile, farming low lands, passing through  the arid and treeless valleys, we trek upwards through the dense forests of the lower valley to high snow-crested ridges and very challenging ice fields. Trekkers will enjoy magnificent and rare views of both Dhaulagiri and Annapurna.
Outline Itinerary:
Day 01:  Arrive at Kathmandu. 1,300m and transfer to Hotel.
Day 02: A day in Kathmandu with half day tour.
Day 03: Drive to Beni 830m via Pokhara 860m. 6-7 hrs journey.
Day 04: Trek to Babiya Chaur 940m 5 hrs.
Day 05: Trek to Dharapani 1,560m. 5-6 hrs. 

Day 06: Trek to Mure 1,700m. 5-6 hrs. 

Day 07: Trek to Bagar 2,375m. 5-6 hrs. 

Day 08: Trek to Dovan 2,600m. 5-6 hours.

Day 09: Trek to Chartare / Bhainsi Kharka. 3,000m. 5 hrs.

Day 10: Trek to Pakhaban  (Japanese Camp.) 3,750m. 5 hrs.

Day 11: Trek to Dhaulagiri Base Camp 4,750m. 6 hrs. 
Day 12: Trek to Hidden Valley 4,900m via French Pass 5,360m.

Day 13: At Hidden Valley.  Reserve Day. 

Day 14: Trek to Yak Kharka. 4,915m. 5 hrs. 

Day 15: Trek to Marpha. 2,630m. 3-4 hrs. 

Day 16: Trek to Lete, 2,480m. 5 hrs walk.

Day 17: Trek to Tatopani 1,190m. Approx. 6-7 hrs. 
Day 18: Drive to Pokhara via Beni. Approx. 6 hrs.

Day 19: In Pokhara, Leisure.

Day 20: Fly to Kathmandu.

Day 21: Free day, Leisure in Kathmandu.

Day 22: Transfer to Airport for the International departure.

---
Trip Dossier:
Day 01: Arrive at Kathmandu. 1,300m and transfer to Hotel.
On arrival at Kathmandu Tribhuvan International Airport, you will be received by our ground support staff and escorted to your Hotel. Our guide will give you a brief orientation of all concerns, including hotel amenities, the city of Kathmandu, preparation for trekking, cultural Do's and Don't, and other related information needed during your stay in Nepal.
Day 02: A day in Kathmandu with half day sight seeing tour.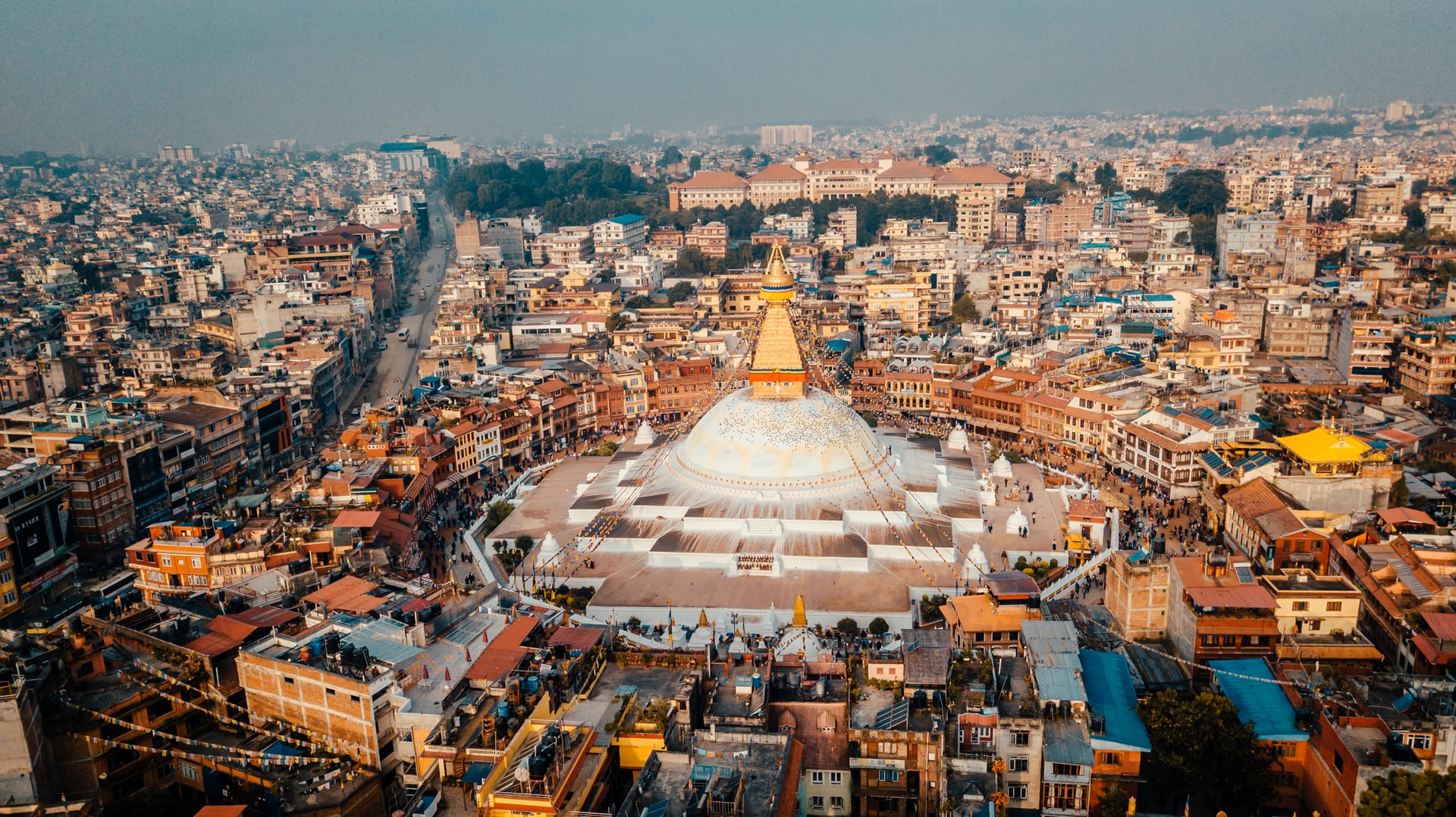 After your first night in Kathmandu, you will be prepared for a half-day guided sightseeing tour in Kathmandu, a world-renown city known for its ancient and spiritual places of interest.
Day 03: Drive to Beni 830m via Pokhara 860m 275 km 6-7 hrs journeys.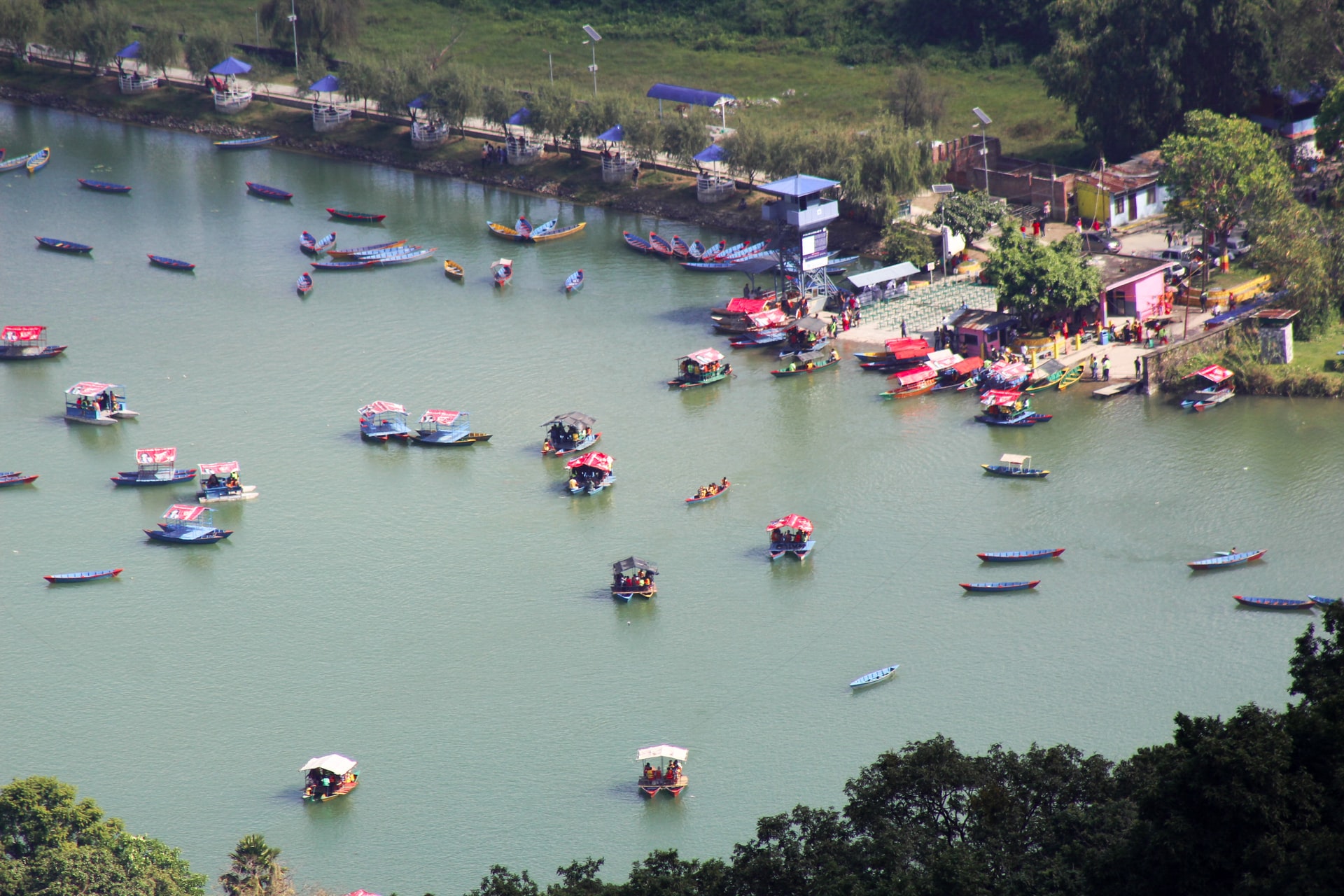 A bus transports you from Kathmandu to Pokhara on a scenic highway overlooking rivers below.  Pokhara is a popular village destination of dramatic mountain-peak beauty, at the foothills of the Himalayan Mountains.   From Pokhara, we travel another 3-4 hours on a scenic drive to the town of Beni to begin classic trekking. Beni is a large town, and headquarters of the Myagdi district.  You will see many porters' mules and donkey trains carrying load of merchandise on the Kali Gandaki route.  Our overnight camp is near the main village.
Day 04: Trek to Babiya Chaur 940m 5 hrs.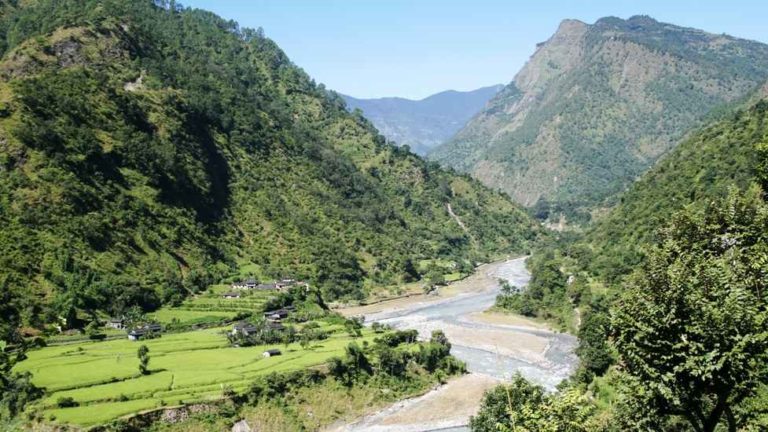 Trekking begins.  The trail from Beni heads westwards, following the course of the Myagdi River upstream.  We trek through lush, green landscapes with rice paddies and dense sub-tropical forests on the steeper higher slopes.  Passing through a number of small farm villages, our trek continues through several farm settlements.  We overnight camp at Babiyachaur, a small village with local teahouses.  Our camp ground is conveniently located next to the trail.
Day 05: Trek to Dharapani 1,560m. 5-6 hrs walks.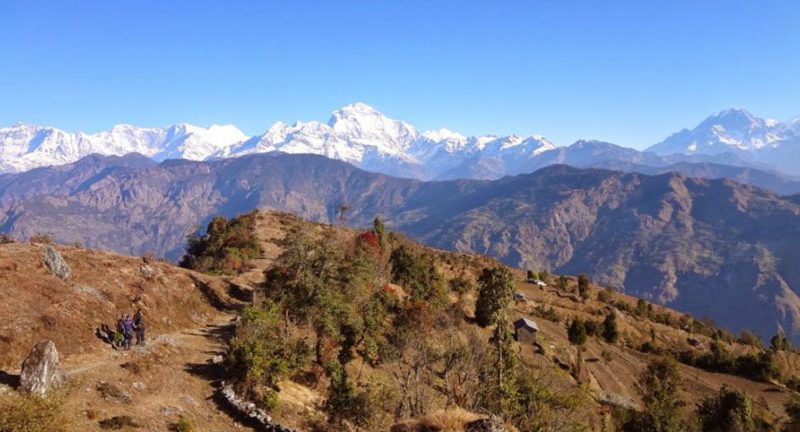 Our morning walk follows the river upstream, passing through several small settlements.  After 3 hours of good walking, we arrive at a large, interesting village of Darbang.  We have an option to stop for lunch depending upon the time. After lunch, we cross the Myagdi River over a suspension bridge.  The trails winds up gradually for an hour to "Phedi" meaning "the bottom of the hills."  After leaving the river behind, we steep climb for one hour to reach to the cooler region at the ridge. Then a short, easy walk takes us to the village at Dharapani, with stunning views of Putali and Ghurja.  The western peaks adjoining Dhaulagiri massif can be seen from the campsite at Dharapani.
Day 06:   From Dharapani trek to Mure 1,700m. 5-6 hrs walks.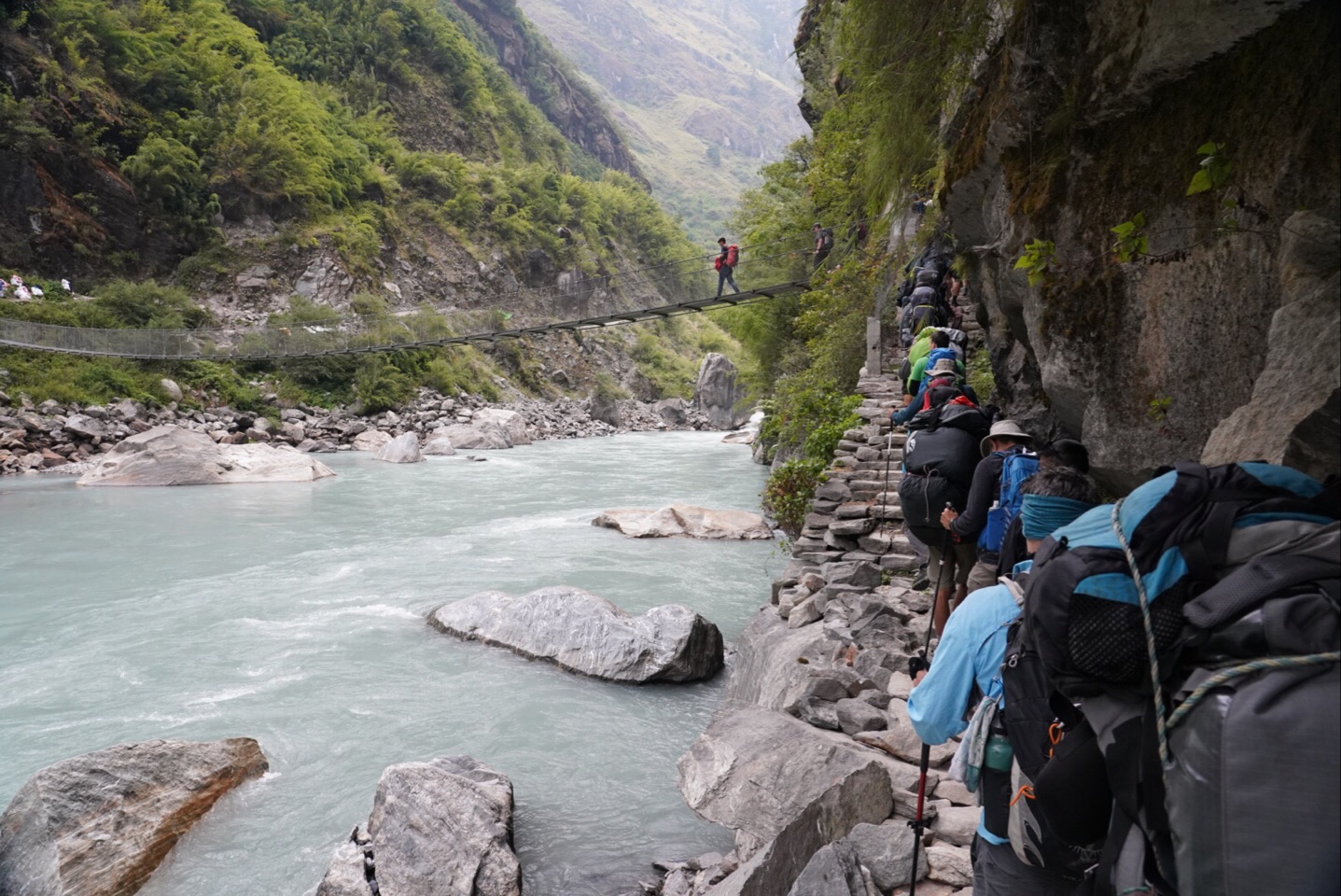 From Dharapani, our trail follows alongside farm fields to the outcroppping where Dhaulagiri Himal comes into view. Then the trail leads towards the Gatti Khola.  From there, we climb steadily for two hours to Mure, a large village for overnight camping at the beautiful confluence of the Myagdi and Dhara rivers. 
Day 07: From Mure trek to Bagar 2,375m. 5-6 hrs.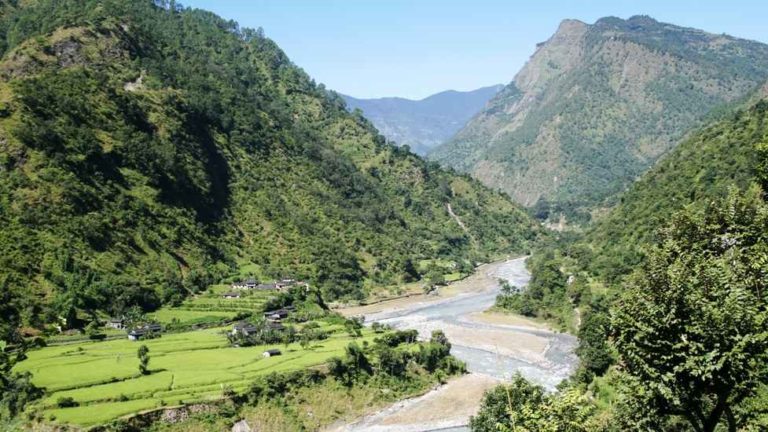 Skirting around and descending to the warm micro-climates of paddy fields penetrated by the tributary Dhora Khola, our path then crosses Dhora Khola.  The main path ascends the hill side, passing charming farm houses.  We walk through a hamlet and across a rolling path that encircles the ridge. The path continues uphill, winding steeply for two hours.  At the top of the ridge, the path descends gradually over six hours to the farming village ofBagar for overnight camp. Bagar is the last village on route to Marpha village at the Kali-Gandaki valley.
Day 08: Trek to Dovan 2,600m. 5-6 hours.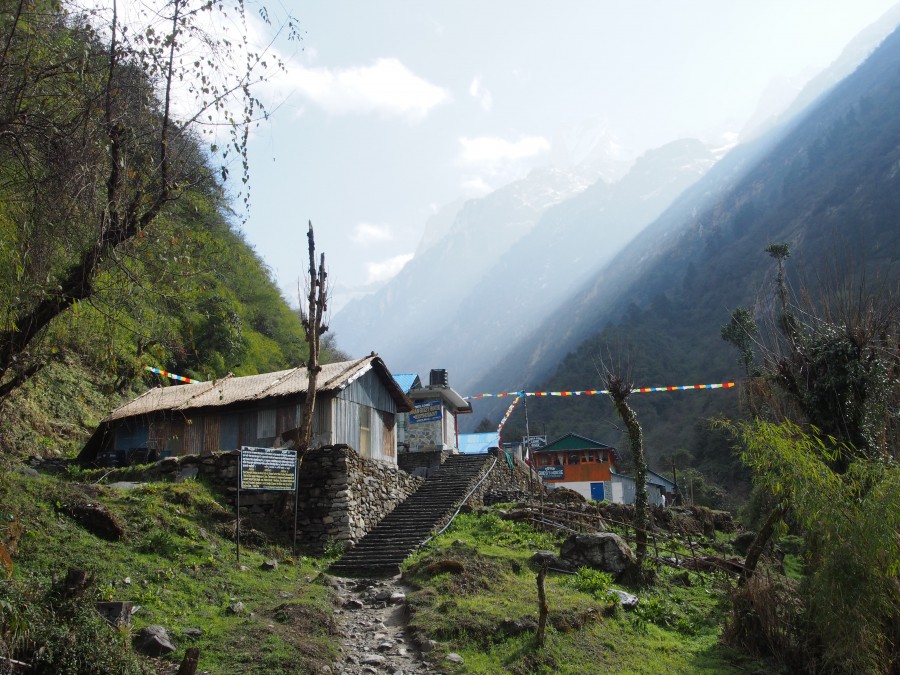 On leaving Bagar village and its farm fields, we follow the forest which climbs the west side of the Myagdi River.  Our trek follows the narrow undulating trail above the river, reaches the ridge top, then descends steeply in a clearing with stone-built shepard's huts. Gradually ascending, we encounter grassy clearings.  After a total of approximately 6 hours of easeful walking, we reach a level grass field, 'Kharka' known as Dovan for overnight camping.
Day 09: Trek to Chartare / Bhainsi Kharka. 3,000m. 5 hrs.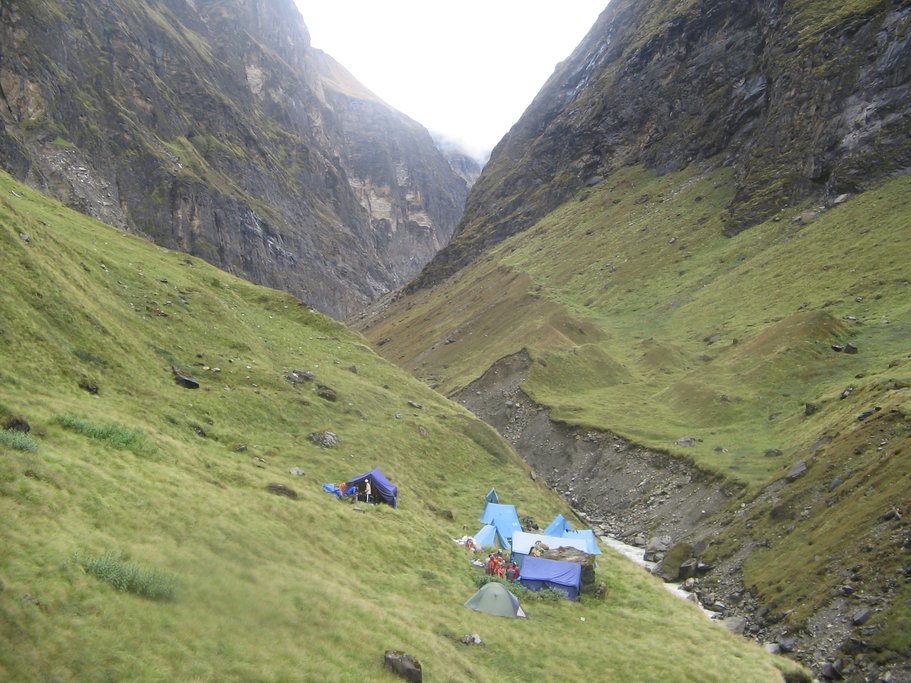 From Dovan route, we trek to the river in about 30 minutes, then cross Konaban Khola, depending upon the level of the river.  After crossing the bridge, our walk follows through the forest then crosses another log over the tributary stream.  After this, we once again enter a forested area.  We make a descent when we see the west wall of Dhaulagiri I.  Heading down to Myagdi Khola side, we take the left bank path, and climb up towards the Pakite Khola, still near the Konaban river.  We cross a stream, Pakite Khola to the table land of Chartare, or the Bhainsi Kharka, and camp for the night.
Day 10: Trek to Pakhaban (Japanese Camp.) 3,750m. 5 hrs.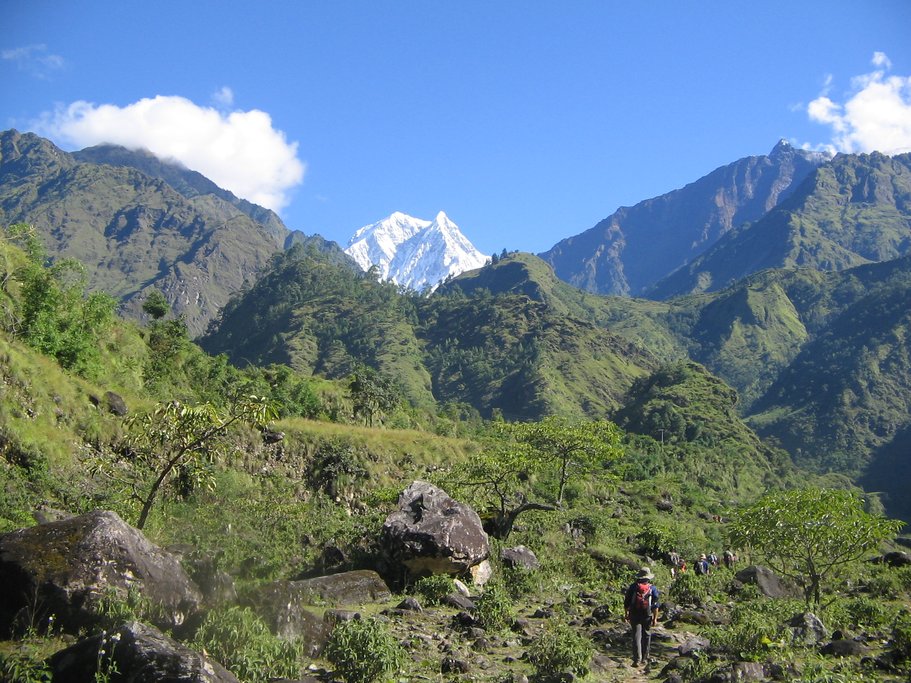 On leaving the campsite, we follow the trail leading to the forest area known as Italian Base Camp. The trial heads into a rocky area then climbs the mountain side with a steep hill at the end.  We then cross the steep hill, and the path narrows to descend to the other glacier. We climb the opposite bank to a grassy area in a gorge valley of Pakhaban, also known as Japanese Camp.  Pakhaban is a beautiful overnight campsite with views of the impressive Dhaulagiri I West wall, and the Tsaurabong Peak.
Day 11: Trek to Dhaulagiri Base Camp 4,750m. 6 hrs. 

We follow a lateral moraine from Pakhaban to a rocky ridge and descend to the right side of the valley covered in snow and fallen rocks.  We enter the glaciated area from the rocky banks, and walk along the undulating glacier surface as the valley curves to the right bank route with a short, undulating passage to Dhaulagiri Base Camp at 4,750 m high.  Trekkers will view the dramatic North face of Dhaulagiri I, the west the peaks of Dhaulagiri II (7,751 m.), III (7,715 m.), IV (7,618 m.), and  Tukuche Peak. We will make overnight camp on a clearing of rocky moraine, with a dramatic view ofDhaulagiri I and its massif glacier and icefall.
Day 12: Trek to Hidden Valley. 4,900m via French Pass 5,360m.
From Dhaulagiri Base Camp, our journey heads to the moraine and glacier, and follows close to Tukuche Peak.  After the glacier climb and a rocky terrace, we enter a gradual slope and climb up to French Col at an elevation of 5,360 meters. On reaching the highest point of this journey at FrenchPass, trekkers enjoy the view of Buddhist prayer flags or "lungta" hoisted by mountaineers, trekkers, and climbers to show respect for the mountain spirit.  From this vantage point, we have a dramatic view of Sita Chuchura, the mountains of Mukut Himal, and Tashi Kang (5,386 m.), surrouding theHidden Valley.  With views of Tukche Peak west and the enormous Dhaulagiri I, we descend along the snow-covered terrain that leads to the overnight camp in Hidden Valley.

Day 13: At Hidden Valley.  Reserve Day.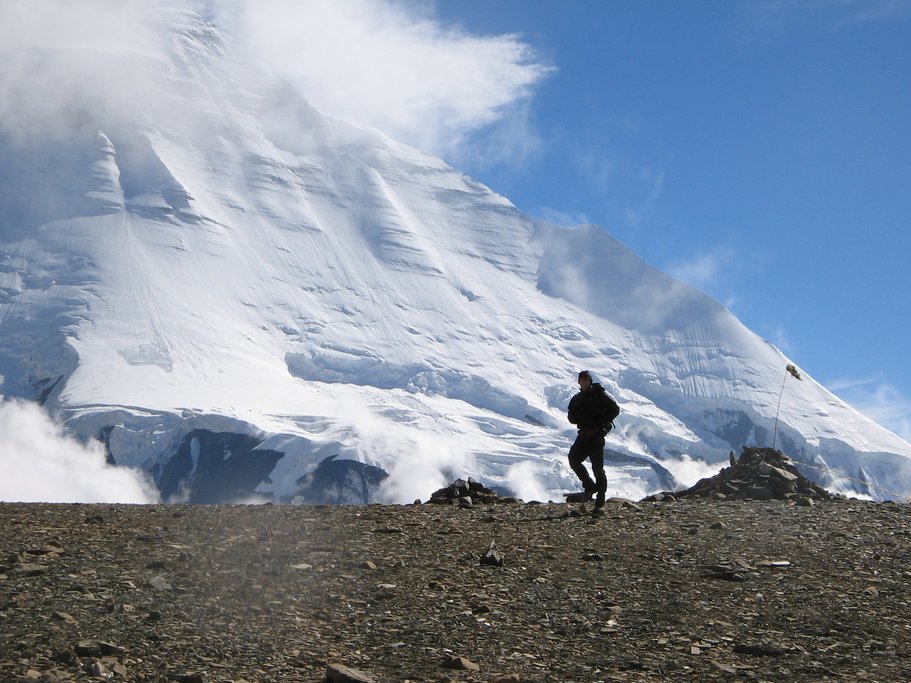 We plan this stop as a contingency or reserve day, in case there's a problem or difficulty en route. If all goes well with the trekkers, we enjoy a rest day and explore Hidden Valley, depending upon the weather.  If needed, we can choose to move to lower camp.
 Day 14: Trek to Yak Kharka. 4,915m. 5 hrs.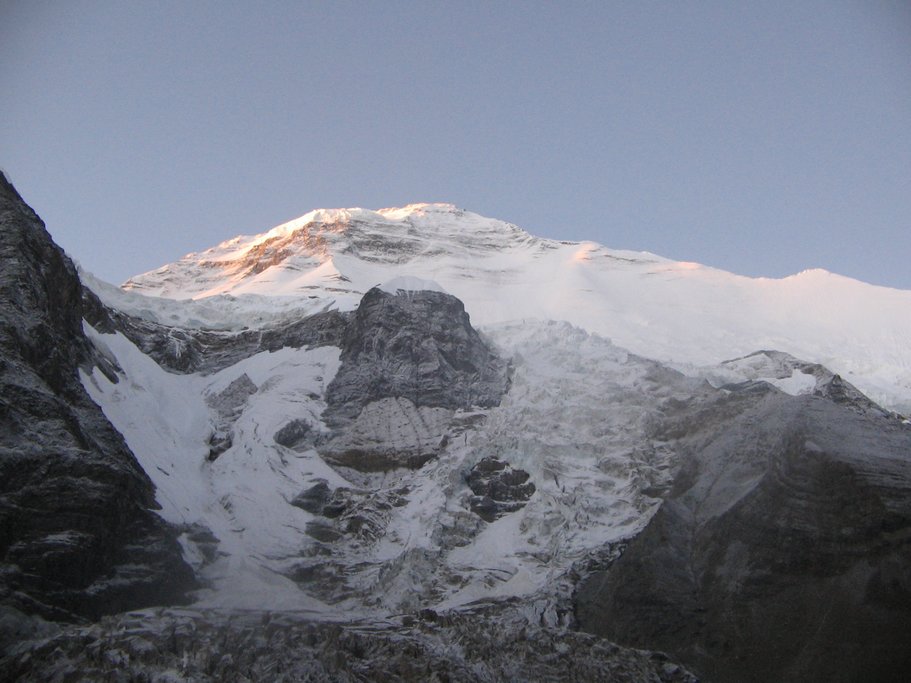 After a wonderful time at Hidden Valley, our adventure continues to cross Dhampus Pass at 5,250m. The trek follows on the gradual path for about two hours, then starts towards the high traverse across Dhampus Pass at 5,250m where we can view the deep cleft of the Kali Gandaki Valley and theAnnapurna peaks on the horizon. On reaching the top ridge at Dhampus Pass, we can view Mukut Himal.  We then descend a steep down hill climb on a rocky mountain side until we reach the overnight campsite at Yak Kharka, a summer pasture.  From this unique vantage point, Nilgiri and the western end of the Annapurna massif are visible.
Day 15: Trek to Marpha. 2,630m  4-5 hrs. 
Ours morning trek leads descends along the narrow mountain path and up to a ridge where Dhaulagiri I and the Tukche Peak are visible.  Following the bank along the Kali Gandaki River and up to Marpha Village, we approach a winding mountain trail that crossesg a stream.  We then reach the Alubari settlement with some quaint stone huts. Descending a steep zig-zag trail along the narrow mountain side, we make our final descent, to the center of Marpha village for an overnight stop.  Marpha is one of Nepal's most charming villages, famous for apples and others products.
Day 16: Trek to Lete, 2,480m. 5 hrs walk.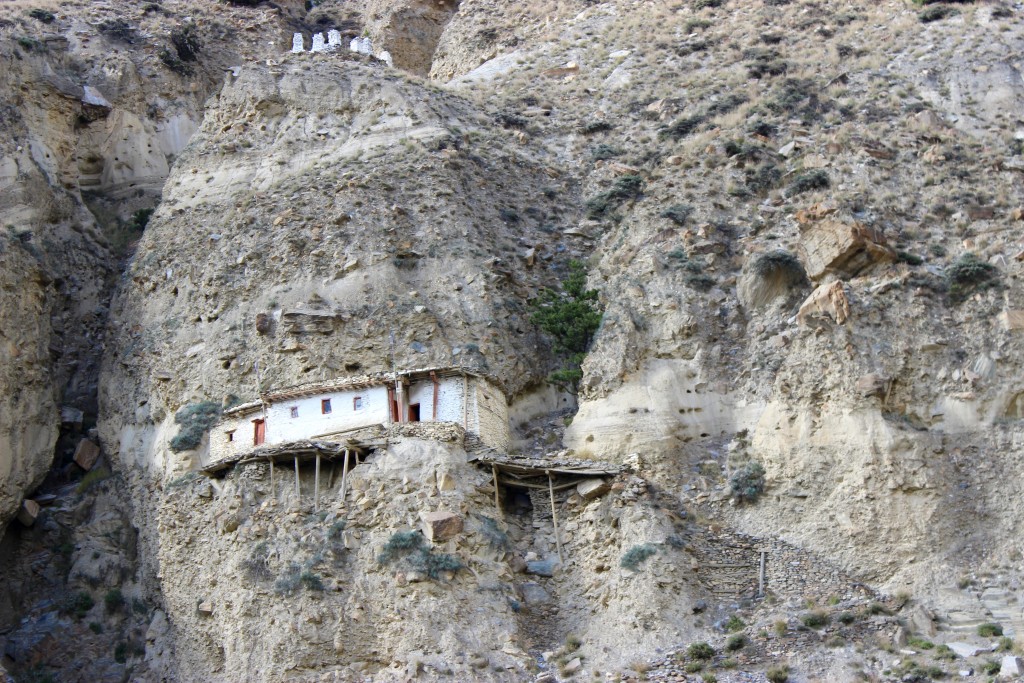 From Marpha, we walk an hour walk to Tukuche village, enjoying the Kaligandaki River from Tukuche to Larjung village.  We trek through cultivated fields and across a rocky area to the settlement of Larjung at 2,560 meters.  Crossing the river bed, we follow the east side of the valley. After an hour walk, we come to the tree line of pines, oaks and rhododendron, where the the path meanders away from the river.  We cross a dramatic suspension bridge over the gorge of  the fast-moving Kaligandaki River.  From there we can view Dhaulagiri peak and its icefall, and move on to Kalapani village, a charming village of excellent tea houses and a grand view of Mt.Annapurna I, Nilgiri's and Dhaulagiri above the lush forest. We continue trekking a short way to camp at Lete, which features a dramatic view of Dhaulagiri, Tukuche Peak, Annapurna I, and Nilgiri.
Day 17: Trek to Tatopani 1,190m. Approx. 6-7 hrs.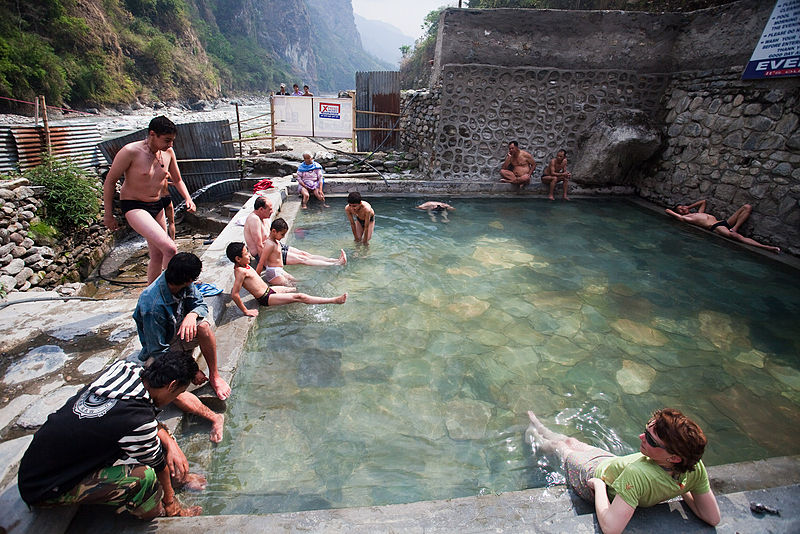 Walking from Lete leads to a dramatic change in the vegetation.  We leave the dry, arid desert go to lush pine and conifer forests, passing between the giant peaks of Dhaulagiri and the Annapurnas.  We pass through the scenic village of Ghasa and the Kali Gandaki Valley, Nepal's most prosperous regions, thanks to the Trans-Himalayan and Salt Trade Route which passes through this region to Tibet. 
This pleasant trek continues back to the terraced paddy fields and into warm sub-tropical climate to the village of Tatopani.  Trekkers will enjoy the beautiful waterfalls of Rupsi Cahhare and the hot springs.  We will overnight in Tatopani, near the bank of the River Kaligandaki.
Day 18: From Tatopani drive to Pokhara via Beni 5-6 hrs journeys.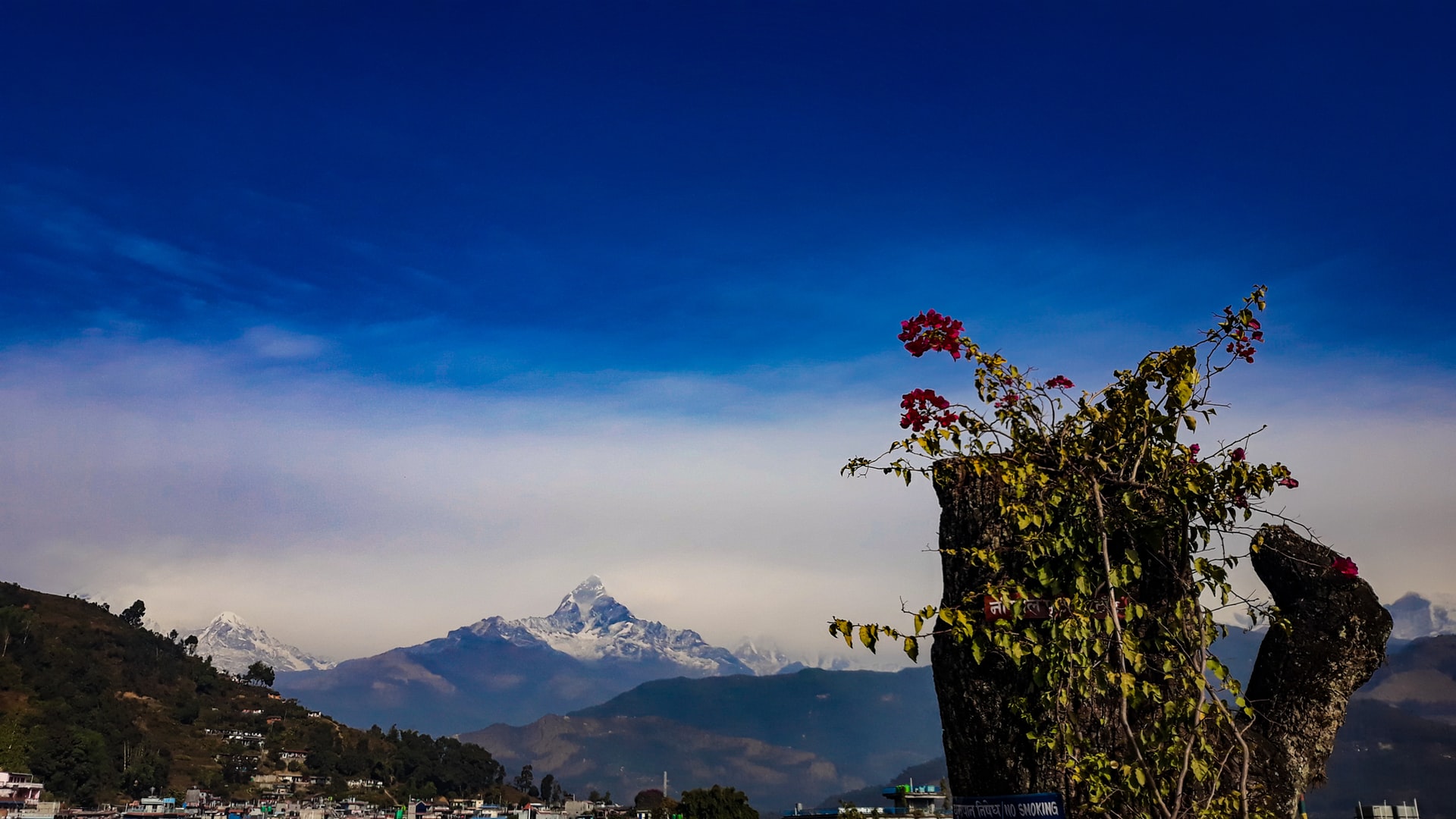 From Tatopani village, we will board a local Bus or a Jeep to Beni, for a full circuit of the Dhaulagiri round.  The drive continues for another 3 hours and then reaches the beautiful, colorful village of Pokhara for the overnight stop by the sacred Lake Phewa.
Day 19: At Pokhara.  Leisure Day.

Trekkers enjoy a leisure day in Pokhara, a perfect spot to shop for handmade goods and relax in this warm subtropical area viewing the dramatic horizon of Annapurna and Manaslu mountains, including the majestic peak of Mt. Machhapuchare (The Fishtail).
Day 20: From Pokhara fly to Kathmandu.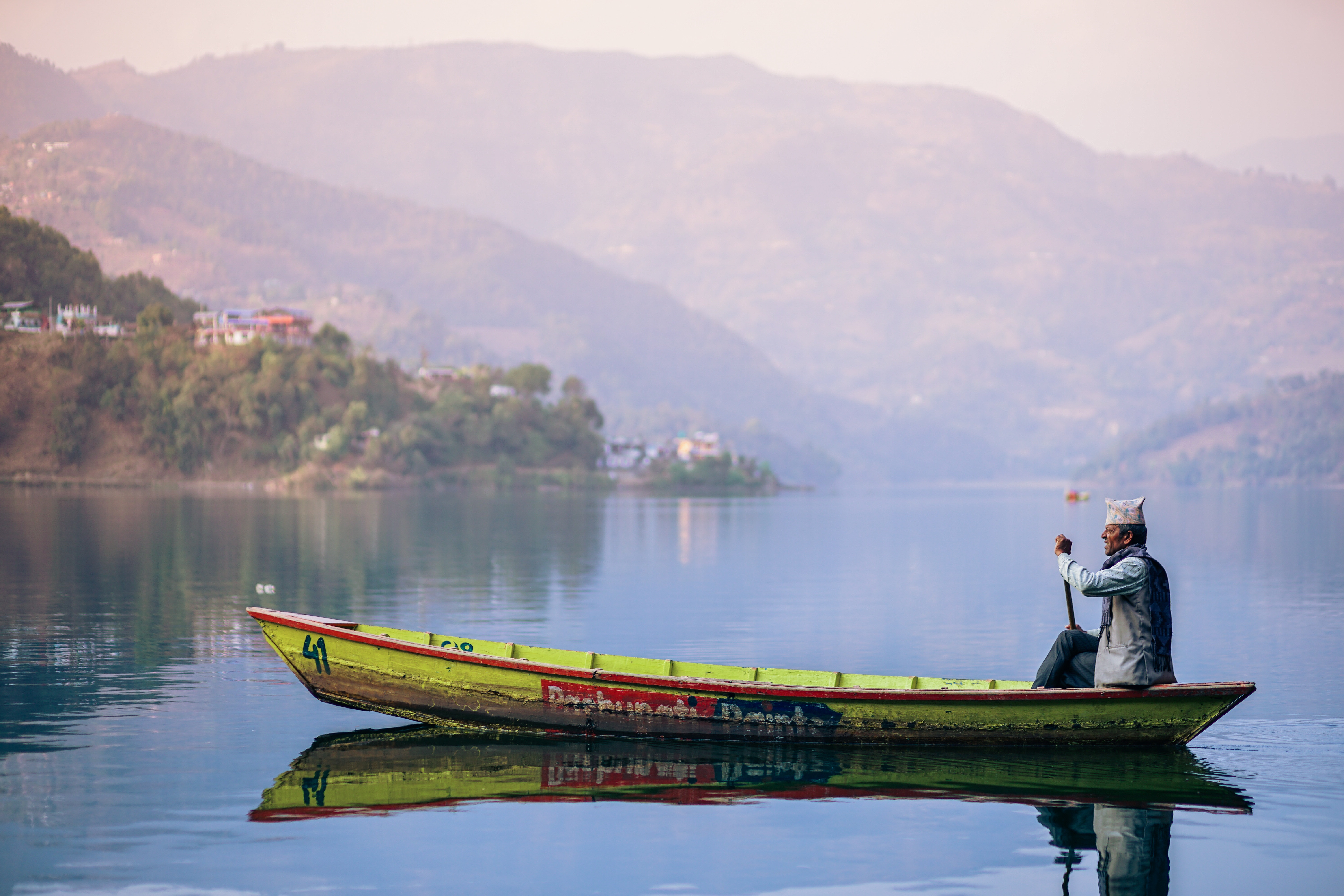 We take a scenic morning flight from Pokhara to Kathmandu, to enjoy a panoramic view of the snow-capped peaks from the plane.  After the thirty-minute flight, we arrive at Kathmandu domestic terminal, where our ground support staff will greet you and transport you to the hotel.
Day 21:  Kathmandu. Free day.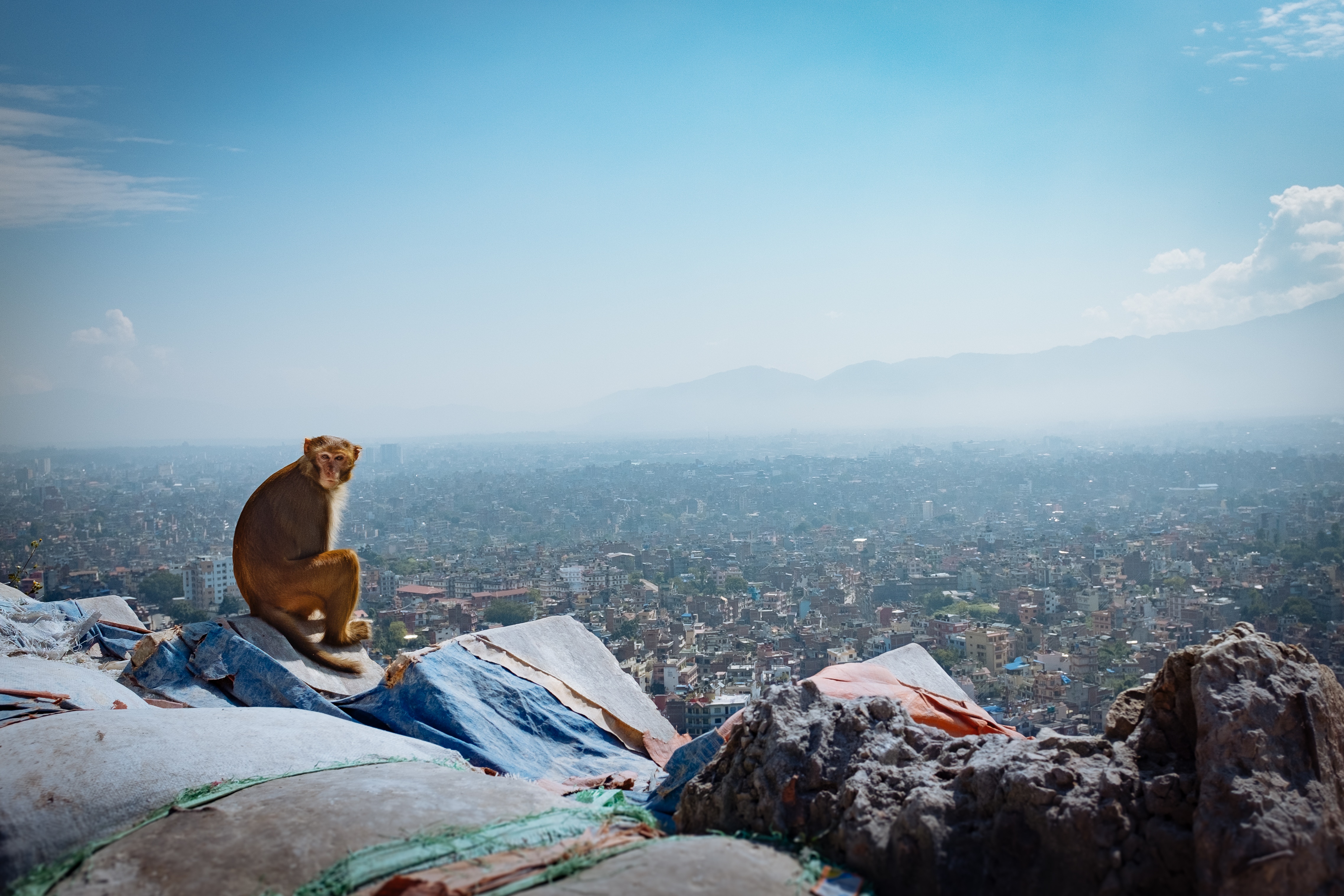 Enjoy a leisure day of sight-seeing or rest in Kathmandu.  You will be shown a number of exciting options for short local tours and temple visits in and around Kathmandu Valley.
Day 22:  Departure.  Transfer to Airport for the International Departure.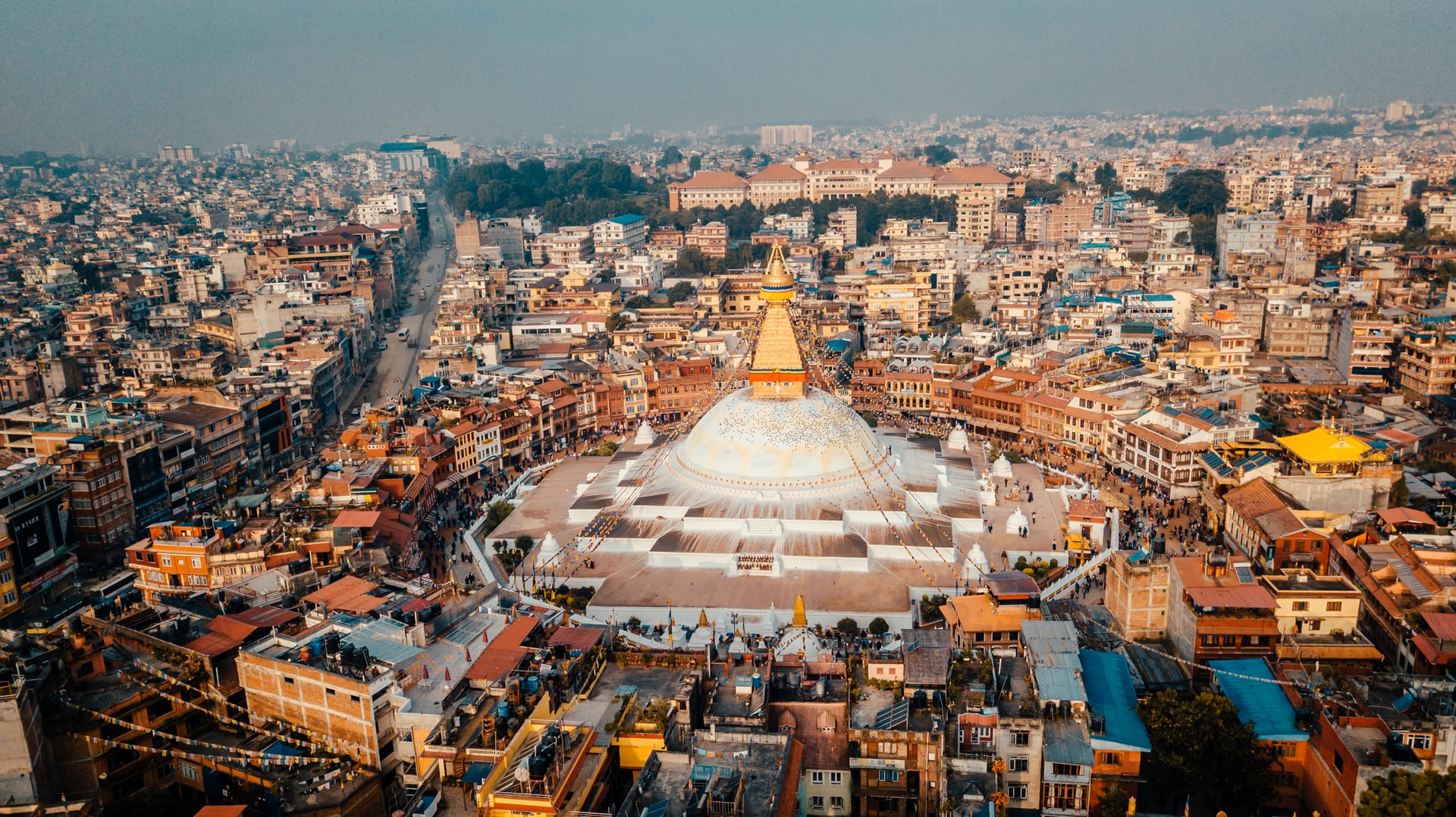 Our ground support staff will escort you to the Kathmandu Tribhuvan International Airport for your final departure in accordance with your international flight time and your confirmed airline ticket.  Please make your travel documents and luggage secure.  Thank you for visiting our beautiful country of Nepal.  We appreciate you!
---
Pricing may vary from time to time depending on season. Please consult us over WhatsApp for latest offer rates.