Nar and Phu are two isolated villages located in a valley in Manang district. It is one of the lesser known trekking route recently opened for the visitors. It requires special permits.The trekking difficulty ranges from medium to hard.
Gurung is the dominant ethnic group living in the area however Bhotia's of (Tibetan Origin) have also immigrated to this valley. In Nar Phu Village Bon religion along with Kargyud sect of Tibetan Buddhism is practiced. Nar- Phu is a Bhotia village- there lifestyle is similar to Tibetan speaking highlanders of Nepal. The primary economic activities of these people are raring animals and agriculture. Pack your bags and prepare to wear off your shoes as you head for once in a life time journey to Nar Phu!
---
Day 01 - Arrive in Kathmandu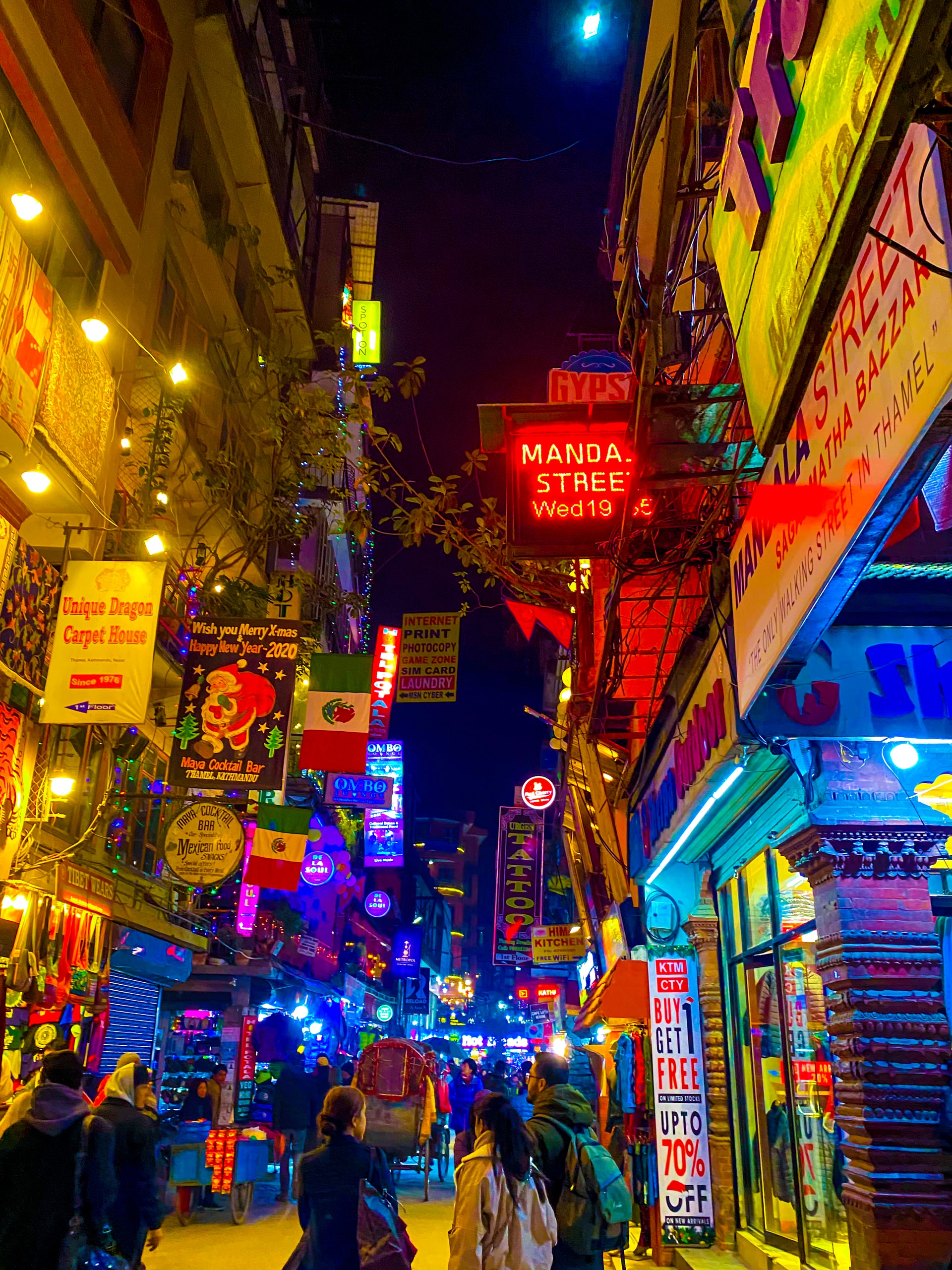 The adventurous trekking trip to Nar Phu valley begins with your arrival in Kathmandu. After going through the customs at Tribhuvan International Airport, you will be greeted by Arihant Holidays representative. From the airport you will be escorted to your Hotel.
Day 02 - Sightseeing in Kathmandu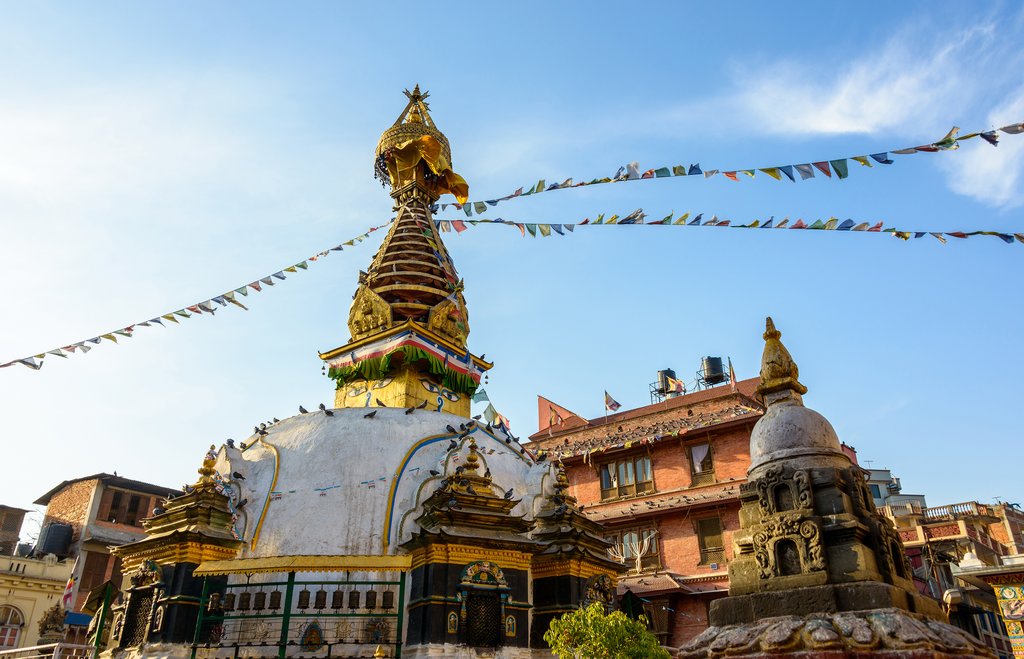 It will take a day to get permit for your trek to Nar phu. Meanwhile be ready for heritage galore. Kathmandu which once used to house three ancients cities is rich in its cultural heritage. You will have plenty to see of the Newari arts and culture.
Your sightseeing for the day includes both heritage and pilgrimage sites all of which are counted in UNESCO world heritage sites. 
Swaymbhunath is a popular ancient Buddhist pilgrimage site, also known as the Monkey temple. Its structure is a white dome with a gold conical shape on top, which is painted with the watchful eyes of Buddha. A mythological story about origin of Swayambhu states that a lotus that radiated dazzling light sprung at the very spot where the dome is today. The lotus is said to have been planted by Buddha. After climbing 365 stairs that lead to the temple you can explore many legends and mythological stories about its existence.            
Pashupatinath Temple is the popular pilgrimage site of the Hindus. The main temple is that of Lord Shiva. Though the temple is barred to non-Hindus a good view of the famous pagoda style structure of the temple complex, courtyard and the other shrines can be viewed from the opposite bank of the Bagmati River.  Shiva's manifestation as Pashupati lord of animal, is considered one of the holiest sites of the Hindus and is a must visit once in a lifetime to gain salvation. You can also see the Hindus cremation site Aryaghat at the bank of Bagmati River.    
Bouddhanath is the largest and the most important holy place for the Buddhists. It is also famous for its power to fulfill wishes and blessings. The base of the stupa is a square shaped terraced plinth representing joy, love, compassion and calmness. The white dome shaped structure on top is painted with yellow to represent lotus. Above which a square tower representing fire is painted with eyes of Buddha. On top of it is the gold conical shaped structure representing air and followed by an umbrella on topmost part symbolizing space. 
Kathmandu (Hanuman Dhoka) Durbar Square is a public square containing ancient palaces, temples, statues and streets. There is an ancient wood pavilion Kasthmandap made by wood gathered from a divine tree, Kalpa Vriksha, build centuries ago. It is this pavilion from which the city got its name Kathmandu. Taleju temple is the oldest and the tallest building in the area, door of which is opened only once in a year during the festival of Dashain. The buildings in the durbar square are important link to the history of Nepal. Hanuman Dhoka is the name given after idol of Hindu monkey god Hanuman which is placed near the entrance of the ancient palace. At Kathmandu you will get to marvel the traditional art and crafts of the Newars, in the form of intricate wood work, sculptors and architecture.  
As you go for sightseeing, don't get carried away as you may have to purchase the gears that you might require for the trekking. The stores equipped with trekking gears can be spotted easily at Thamel, couple of minute walk from Hanuman Dhoka Durbar Square. You will spend this night in Kathmandu, however finish packing and be well rested for the next day.
Day 03 - Drive to Khudi [790m]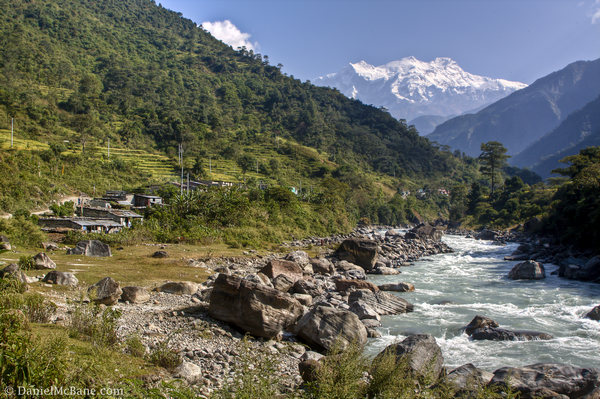 The journey from Kathmandu to Khudi is 5-7 hours trip in a Hiace jeep. Few miles before you reach Khudi you will pass through Besisahar, a small village on both sides of the highway. Besisahar is the starting point of the Annapurna circuit trek. You will see the golden rice fields and terraced farmlands in the area.  Khudi is a scenic village situated along the Marsyangdi River valley. Comparatively at the lower altitude, this valley has sub-tropical vegetation.  
Day 04- Trek to Bahundanda [1310m]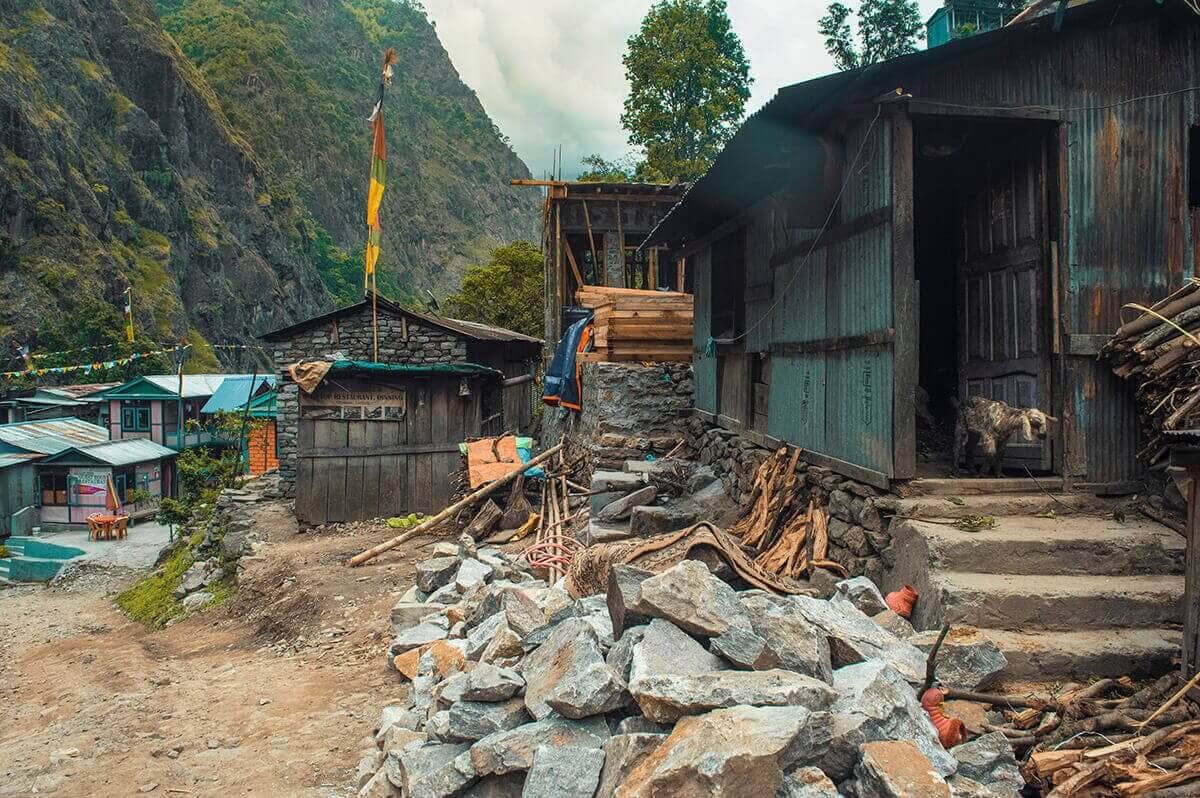 Today you will ascent northwards towardBahundanda (Hill of the Brahmans). The 6 hour trail passes through beautiful waterfalls and magnificent view of glistening white Mt. Manasalu, Mt. Lamjung and peak 29. You will get to see a breathtaking view of the Marsayangdi valley and golden colored ripe rice growing on terraced hills. The path gets steeper as you get closer to Bahundanda, but the view from top will be worth it. You will shack up at a tea house on the way. 
Day 05 - Trek to Jagat [1290m]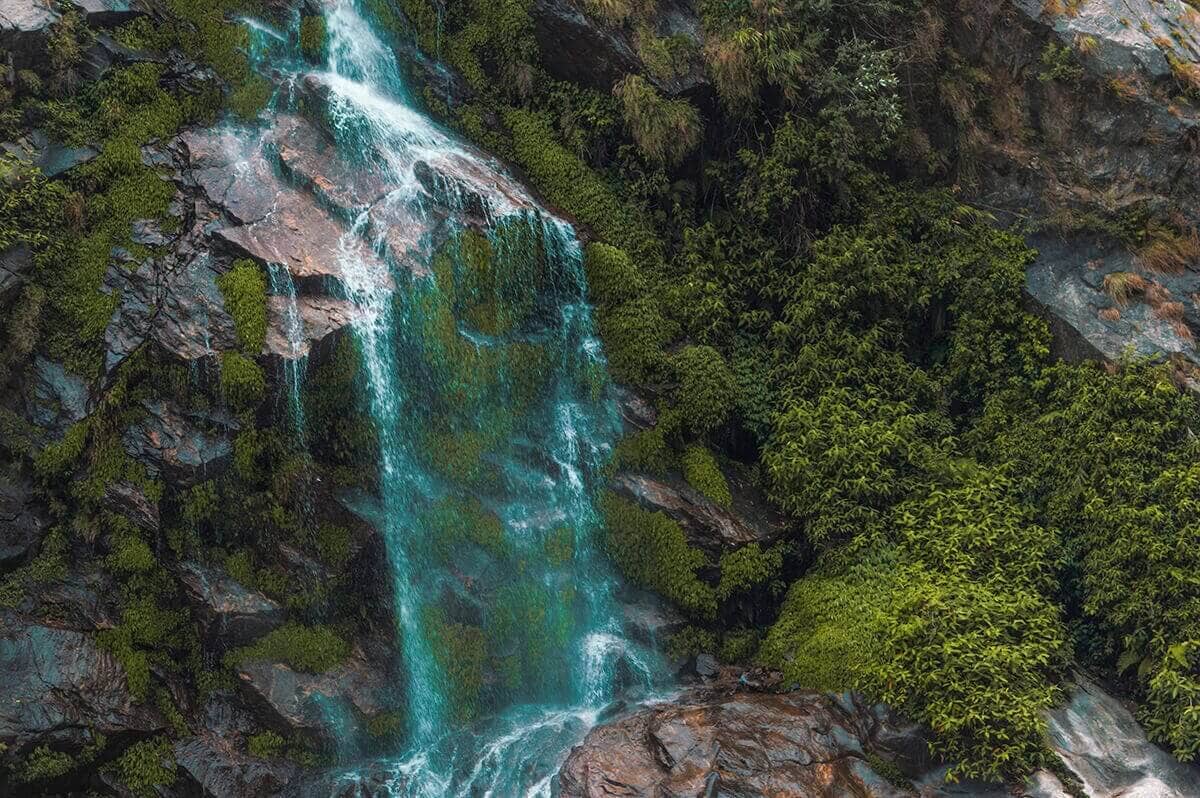 The trek from Bahundanda to Jagat will take you approximately four hours. You will cross Syange which marks the last of the mid hills; the ascent now will be steeper. You will see beautiful waterfalls along the trail to the village, inhabited by people of Tibetan origin. Beautiful stone house in Jagat gives you the feel you are in Stone Age with Flintstones.  There are a dozen lodges to choose from for overnight stay.
Day 06 - Trek to Dharapani [1920m]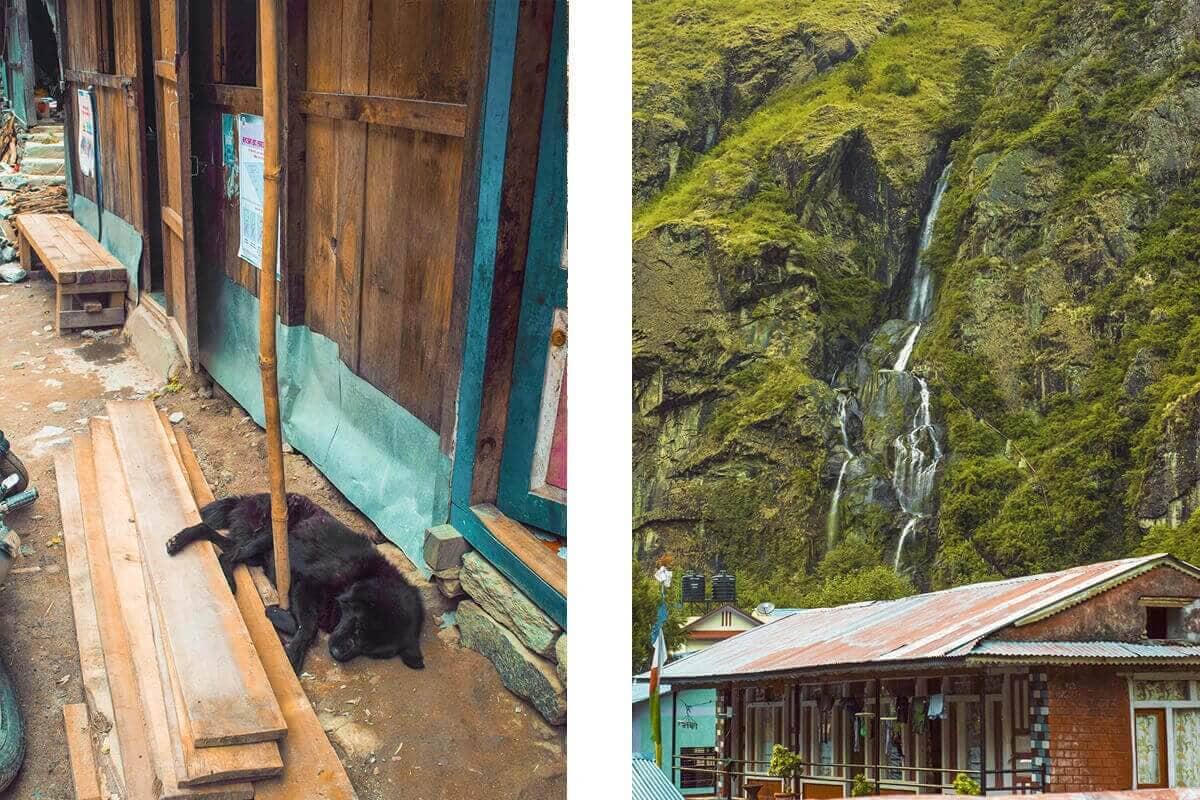 The trail from Jagat begins downhill until you reach the river. From here you continue your trek through a forest. You will pass through hills that have faced the onslaught of landslides to beautiful lush green vegetation. On the trail you will see beautifully carved naked hills with wild honey bee hives in the nooks and crannies. The trail will lead you to Tal, first village you will encounter of Manang district. Tal is a Nepali word for lake. From here the trail snakes on the banks of green Marsyangdi River until you reach Dharapani. A quiet village nestled between two hills. Dharapani is a trekking junction from which you take different routes either follow Annapurna Circuit trek or towards Manasalu. It will take you approximately five hours. 
Day 07 - Trek to Narphu valley first camp [2740m]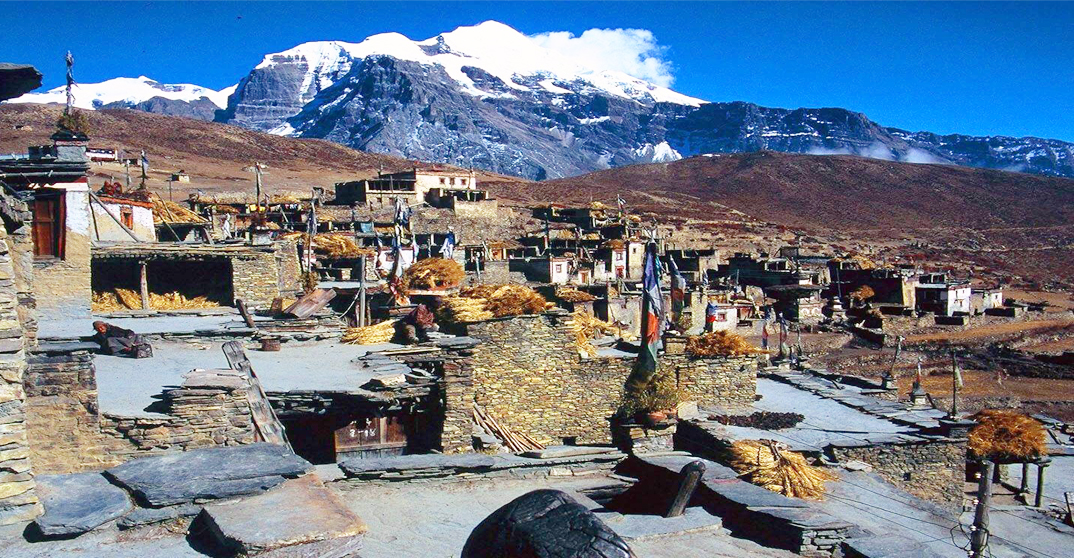 Your expedition will move northward toward the less traveled trekking route in Nepal. The total travelling distance you will cover today will be 6 hrs. depending on the pace.You will pass through beautiful river, Dudh khola which originates from Manaslu. En route Nar you will pass through tatty settlement of Timang village. On Your uphill and downhill track you will pass through a picturesque traditional stone walled village of Thankchowk.   As your trail leads you pine through forest and stony trails you will arrive at a small village of Koto. In the dusk you will witness beautiful orange hue of the sun illuminating Annapurna II. This is where you leave the Annapurna Circuit Trek. As you cross the suspension bridge across Marsyangdi River you will enter Nar Phu valley.  You will camp near a small village called Nar gau in the valley.
Day 08 - Trek to Sinhenge Dharamsala [3230m]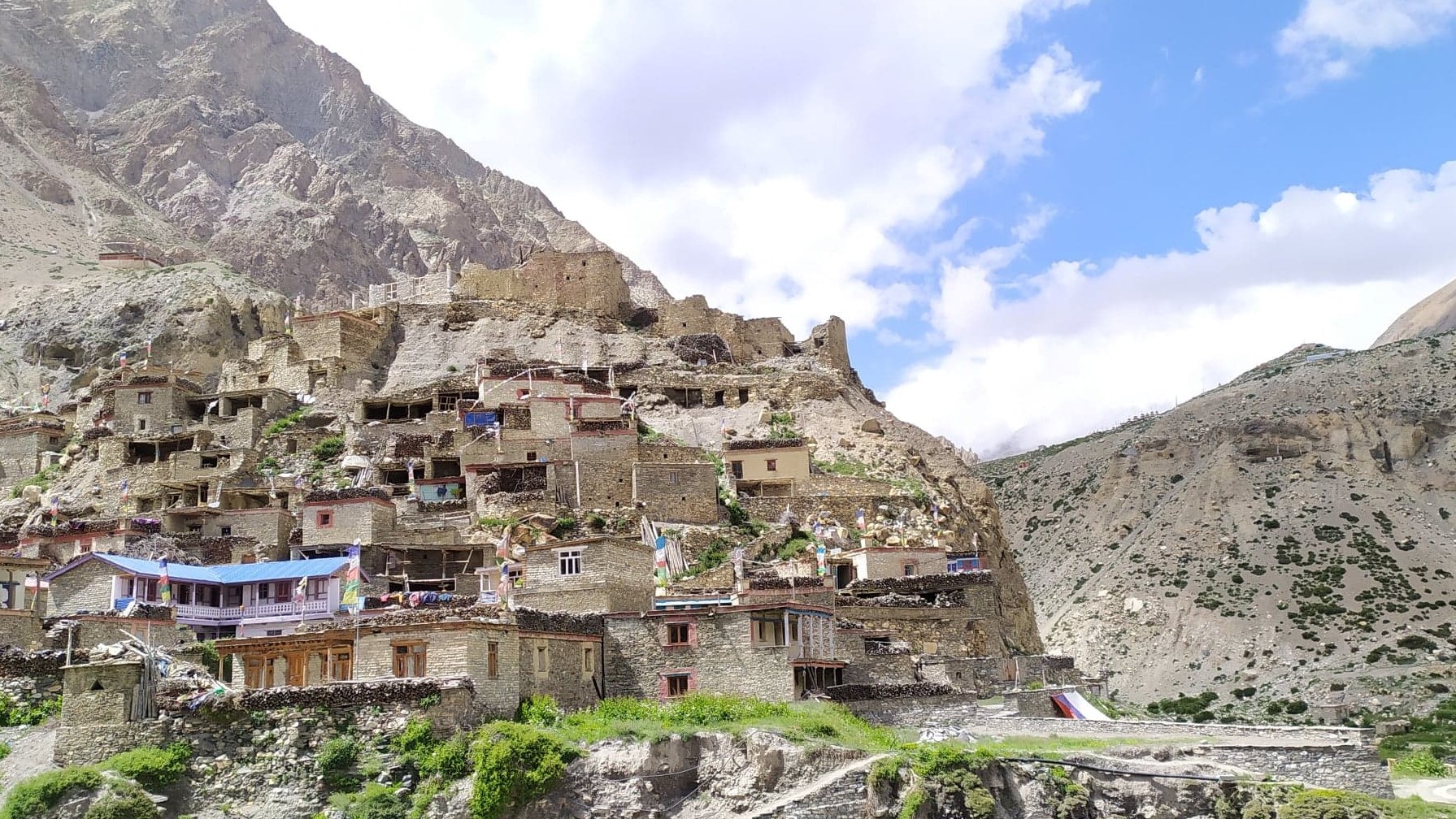 Today the track you will cover will be unlike the trail you had been following around Annapurna. As you make a short descent in the beginning of your trail, the Annapurna will be standing tall behind you. Koto to Dharmashala may take you 5 hours depending on your pace and acclimatization to the thin air as you ascend to the higher altitude. Your trail will snake through pine forests and beautiful streams. As you near the Phu Khola (river), you can take a short hike to nearby natural hot springs. The trail that follows is a path carved out on the hills, which keeps the adrenalin pumping until you reach the camping site at Dharamsala. 
Day 09 - Trek to Upper Chyakhu Village [3720m]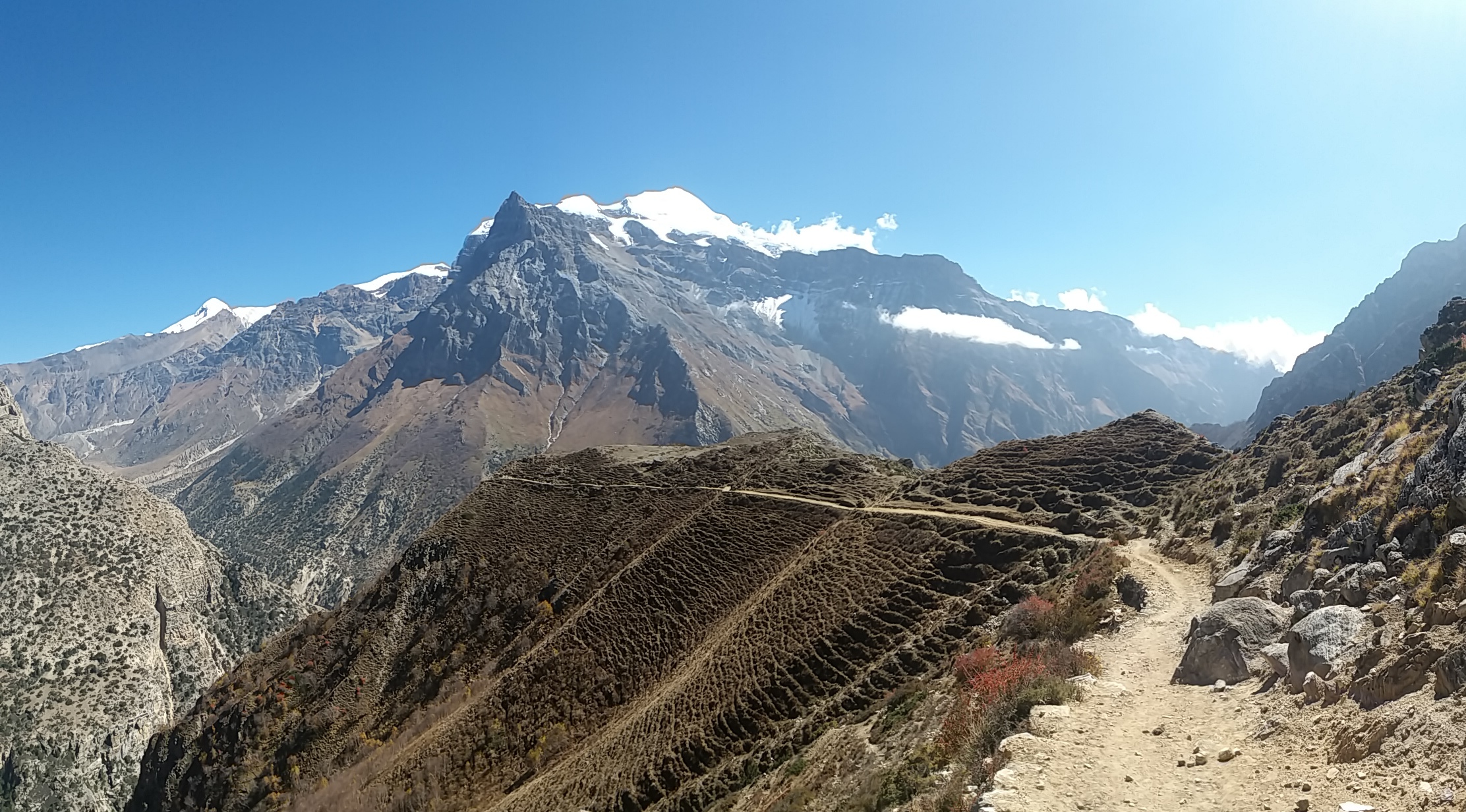 As you start you trek today you will begin with steep climbs. As you trek through the winding path you will get to observe beautiful streams and pass through pasture lands where you can see Nar (the blue sheep from which the valley got its name) grazing. The pasture land is called Meta, used by the villagers of Nar Phu during their seasonal migration. You trail will get challenging here onwards.You have to trek through glacial gravels resembling roller coasters, with innumerous waterfalls sprinting from the cliff.  As you ascend upwards you will come across row of chortens which will lead you to a flat area of Chyakhu. This is where you will camp tonight. The trek may take approximately 6 hours depending on your pace. 
Day 10 - Trek to Phu Village [3980m]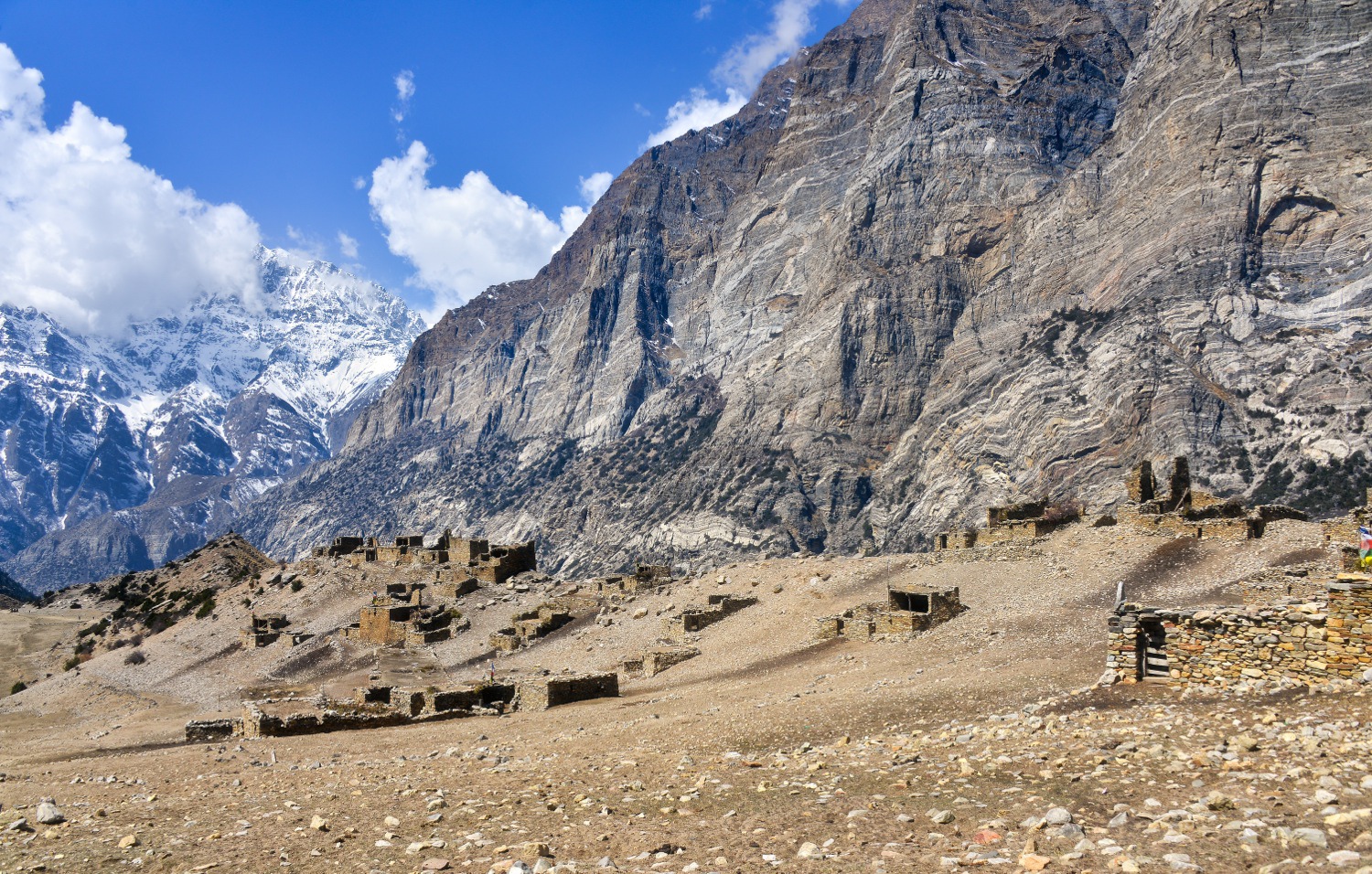 One of your destination Phu village is getting closer. On the trail you will pass through isolated chortens, prayer flags and birch trees. Enroute you will approach isolated and empty Khyang village used as settlement by the Phu villagers to escape from harsh winter. It is two hours trek from Khyang to Phu village.Today you will trek through the gorge of Phu khola, your trail will be a tiny path carved on a cliff. The S shaped Phu valley will be slowly visible in the background.  Slowly your trail will lead upto Phupi Gyalgoe gate, gateway to Phu village the most spectacular village perched on a hill. You will pass through a beautiful mani wall (stone wall inscribed with Buddhist prayers) and mysterious caves as you approach closer to the village. You will camp in closer proximity to the village tonight. 
Day 11 - Rest day in Phu Village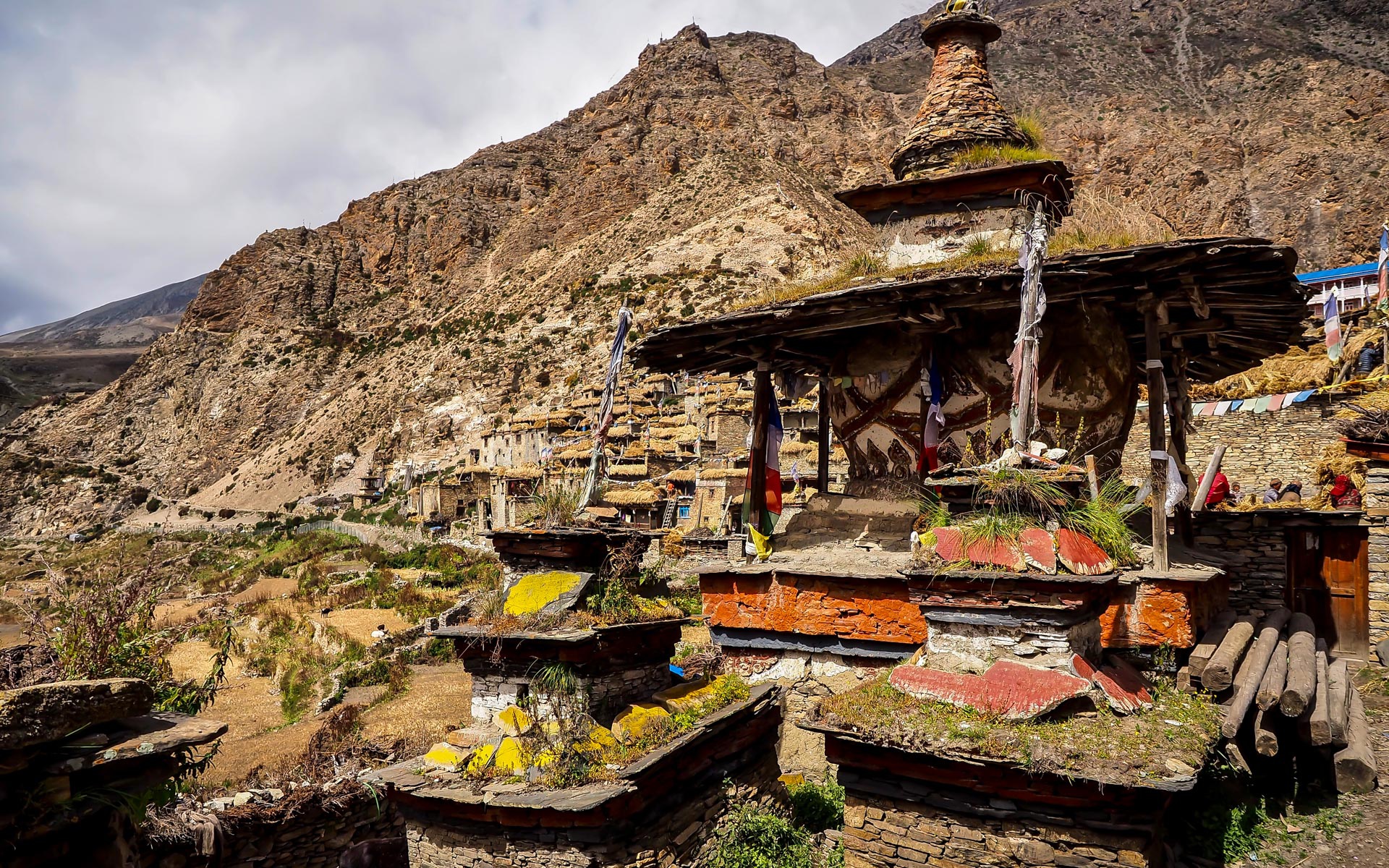 A long trek to Phu village won't be worth it until you immerse yourself in the nature and culture of the village. Beautiful streams called Lhodal and Phu flow through the middle of the valley. A large Buddhist monastery is located in the middle of the village. Jor festival is celebrated by the people of Phu village with their own traditional dance. You will have plenty of time to explore the village and nearby areas today. 
Day 12 - Trek to Nar Campsite [3550m]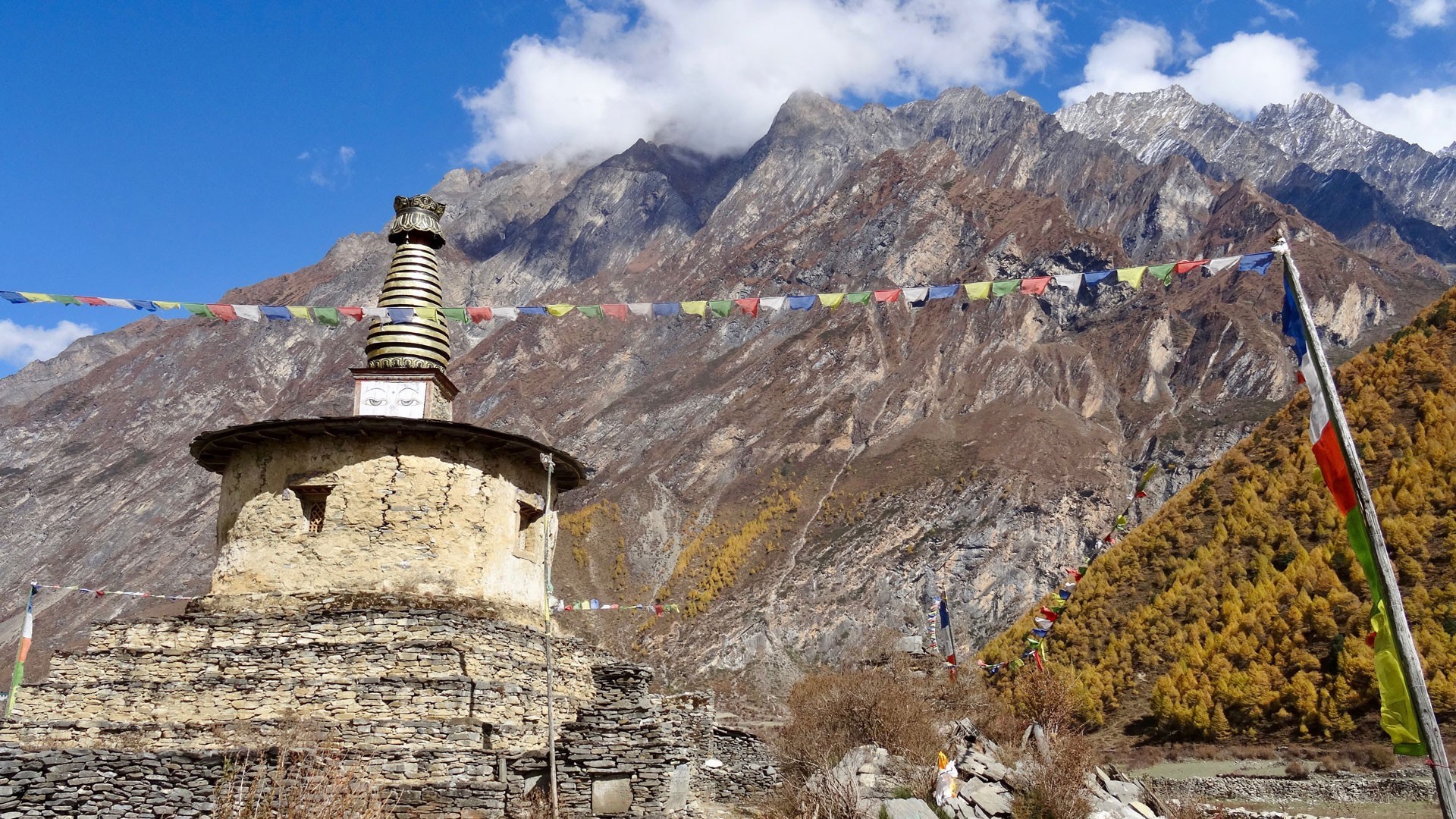 Today your journey continues to the neighboring Nar village however you will have to retrace the same step pass Chyakhu village. You will have to cross twin bridges across the river canyon to reach Nar Phedi. Tonight you will camp near the monastery at Nar Phedi. If you are not tired 500 years old Sadik Chorten is a couple of minutes' walkfrom Nar Phedi. 
Day 13 - Trek to Kang La Phedi [4530m]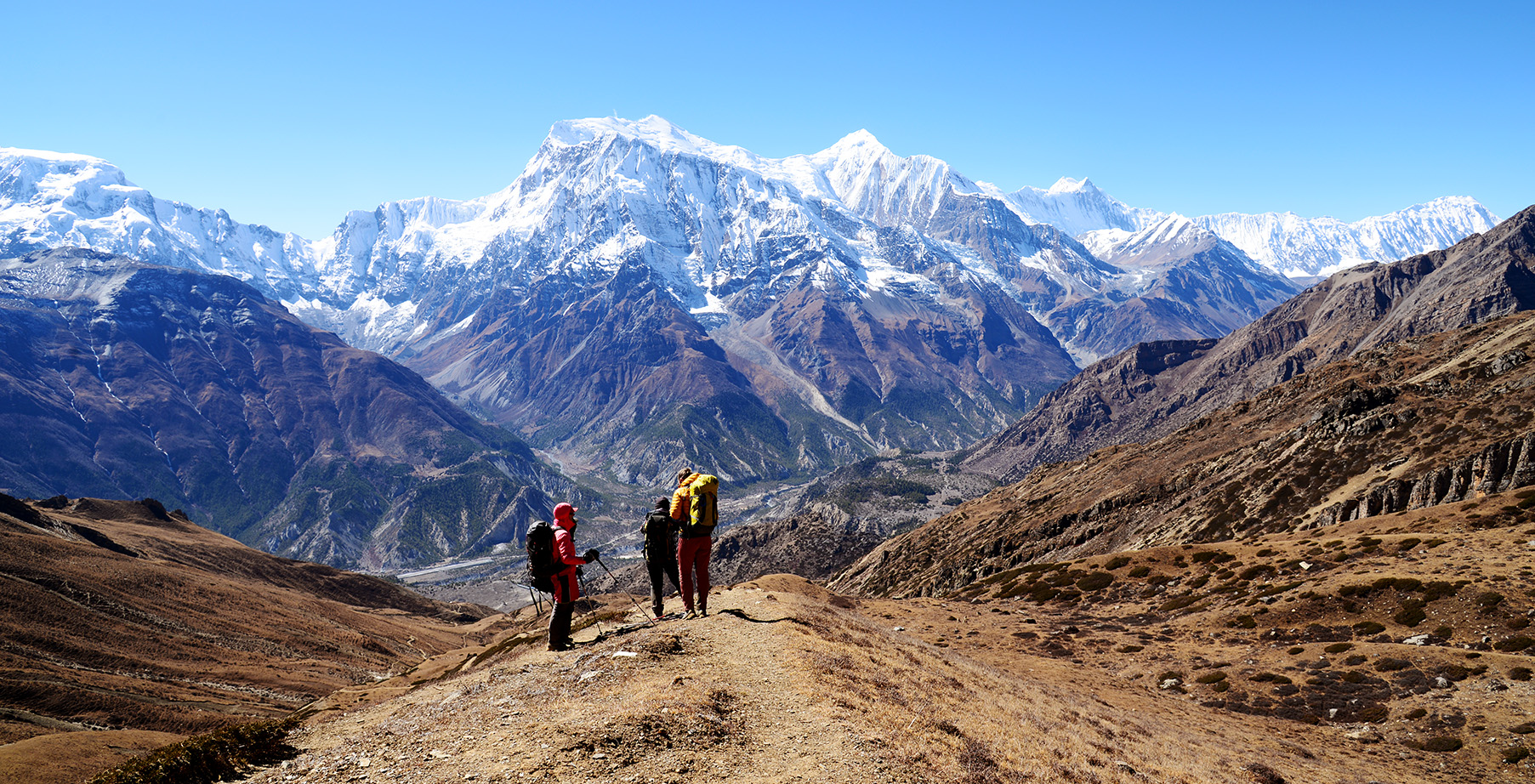 Your Trek from Nar Phedi to Nar will be a steep trail of more than an hour. As you approach the village Kang Garu peak will slowly peer at you. Nar Village is large than Phu. You will not miss the 10 chortens aligned leading to the Nar village. The trail curves around the ridges as you will see a tiny stone village squatting on a natural bowl. You can explore Nar for few hours before you trek pass the Nar village towards Kang La Phedi, your camping site which is around 2 hours ascent. 
Day 14 - Trek to Munje [3330m]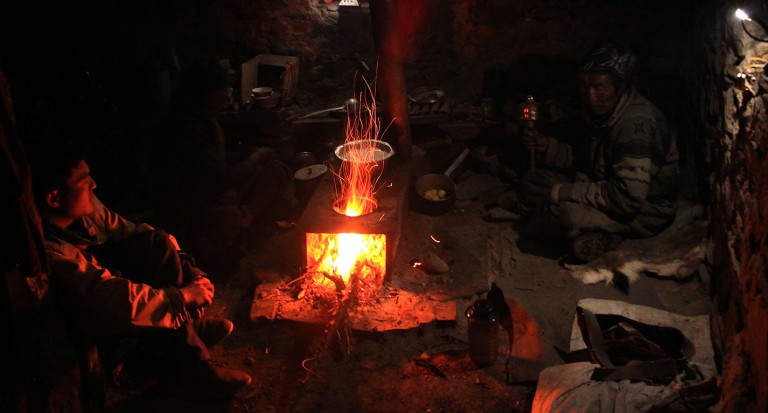 Today your trail will be challenging as you have a long trail pass Kang La Phedi to Ngawal to Munje which may take you around 6- 7 hours trek. You will have a good view of Pisang Peak as you ascent the ridges. You will arrive at Kang La Phedi where the temperature drops as soon as the sun disappears. You will get to see exotic convoys of yaks in the slippery trail. En route you will see beautiful frozen lakes and magnificent view of Annapurna. From the Kangla pass it is a steep descent. Ngawal is a serene village which has beautiful mani walls and chortens strewn with prayer flags. Your trail swings left down the valley floor to Munji. You will be camping here overnight.
Day 15 - Trek to Manang [3520m]
The next morning your trail continues through barley and buckwheat fields to Bragha. It is a beautiful village with stone houses nestled on a hill. Bragha is an arid valley with rock hills and Annapurna in the background. Bragha has a large collection of statues, thangkas and manuscripts that are more than 500 years old. You will ascent towards Manang, a plateau with flat roofed houses and alleyways. You will camp at Manang today. 
Day 16 - Trek to Letdar [4250m]
Manang to Letdar may take you 5hours depending on the pace. It is a very challenging as the air thins, althoughthe trail though is merely 3 km. Due to its high altitude acclimatization is important. From Letdar you can get a magnificent view of Manang and Yaks grazing in the fields. You will get to witness an excellent view of Annapurna III.
Day 17 - Trek to Thorung Phedi [4500m]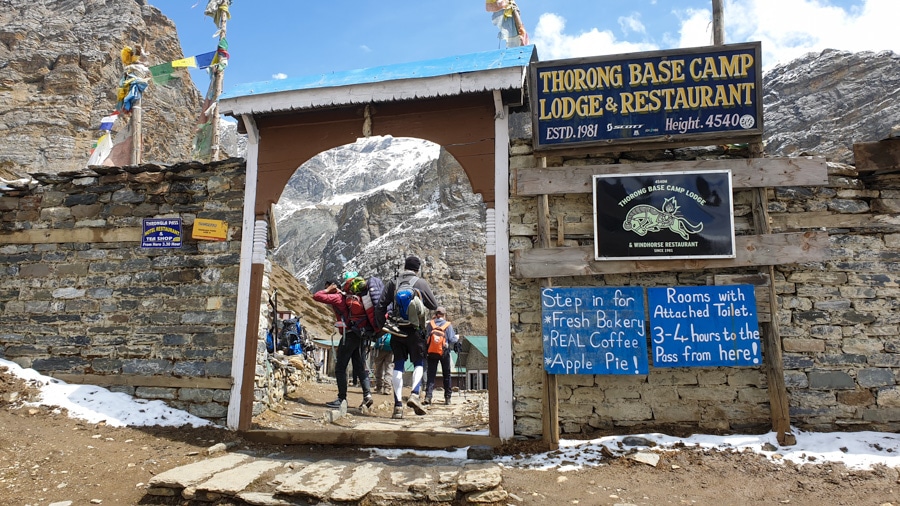 Letdar to Thorung Phedi is two hours trek depending upon the pace. You may come across sparse tea houses at places. Thorung Phedi is a beautiful rock strewn meadow. You will be camping here overnight. The night maybe difficult to endure due to thin air however when you reach the top you will get a big sense of achievement. 
Day 18 - Trek to Muktinath [3800m]
Today the trail will lead you to the tallest pass in the world Thorung la before you arrive at Muktinath.The climb will be 6- 8 hours long and lead you through snow moraines and rocky ridges. The trail is well defined as it is often used by yak herders and mule trains. The area is covered in snow all year round; you will pass through poles that mark your trail. Prayer flags are strewn at places which pose as landmarks. From the trail you will get a magnificent view of ridges that separate Manang from Nepal, Annapurnas, Gangapurna, peak Khatung Kang and Thorungtse. The Thorung La pass is at the altitude of 5416m. From here your trail will descend all the way to Muktinath, trekking through melting ice to grassyland. You will be camping at Muktinath tonight.
Day 19 - Trek to Jomsom [2713m] 
You will have plenty to see in the Muktinath area today morning as it is only two hours descent from here to Jomsom.
Muktinath is a popular pilgrimage site of both Hindus and Buddhists. Here you will understand the real meaning of religious harmony and tolerance.The temple houses the idol of lord Vishnu (He is the protector in Hindu religion, here he is worshipped as the lord of salvation.) in the center and goddess Laxmi (goddess of wealth) and Saraswati (goddess of learning) on either side. There is an eternal flame burning at Muktinath which represents Brahma (Creator of the Universe). The place is also famous for the holy stone called Shaligram. Stone shape like a fossil of snail. According to Hindu mythology this stone is one of the forms of Lord Vishnu.For Tibetan Budhhist Muktinath is a place of Dakinis (Goddessess known as the skydancers). There is an image of Tibetan sage Guru Rinpoche here. It is said that he visited Muktinath in the 8the century. There are several Gompas of reverence here and a pool with 108 brass water sprouts shaped like cowshead.
After the sightseeing at Muktinath your trail will lead you to the village of Ranipauwa. It house lodes and teahouses for the pilgrims. A good 20 minute walk will bring you to the fort like village of Jharkot, there is a large gompa and Buddhist caves to explore here. Your trail will move from beautiful meadows, streams and fruit gardens. You will arrive at a comparatively large district headquarter of the area at Jomsom. Tonight you will stay at Jomsom and explore the area. 
Day 20 - Flight to Kathmandu via Pokhara [2713m]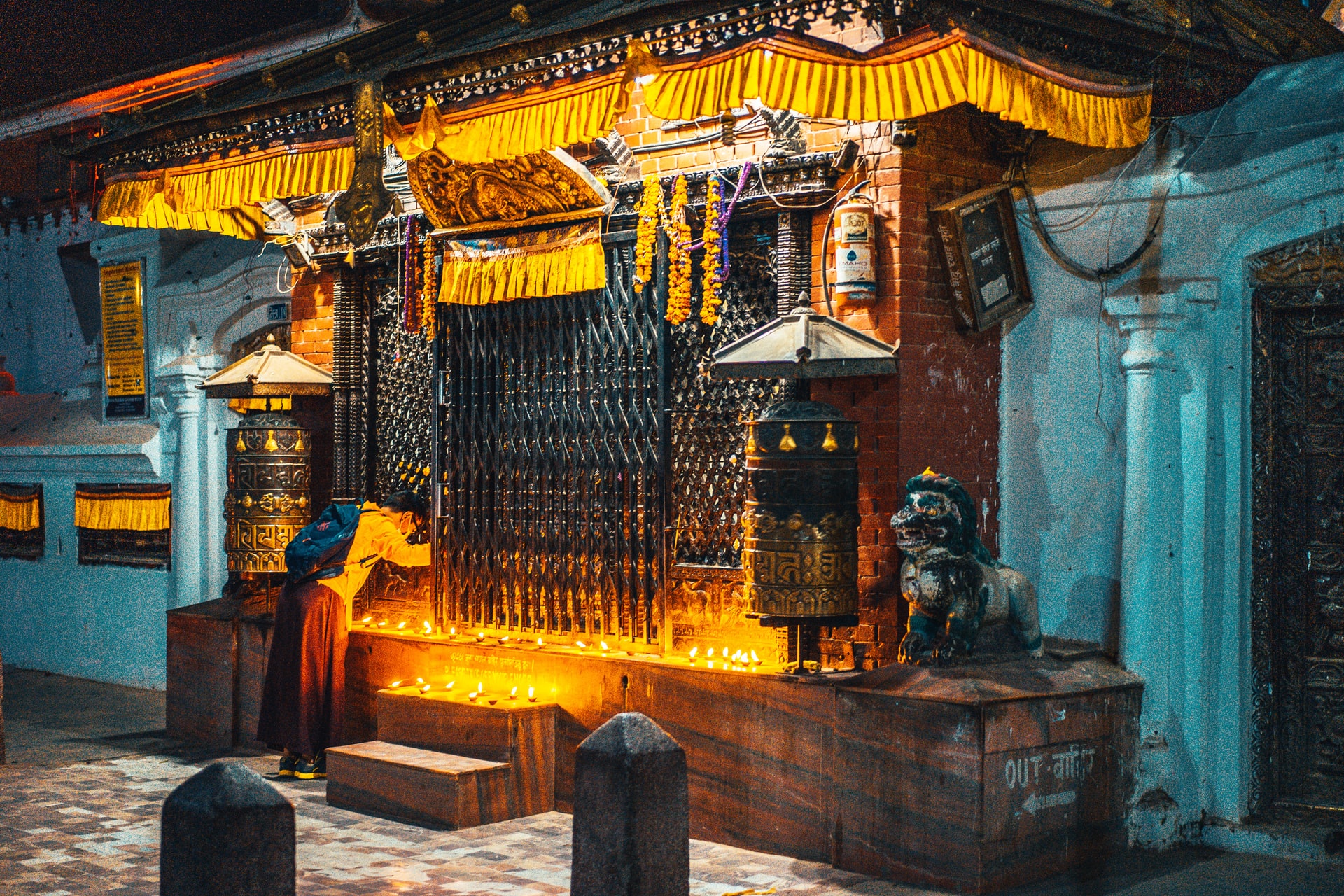 The next morning you will take a flight from Jomsom to Pokhara and then take the connecting flight to Kathmandu. As it is going to be an early morning flight you will get plenty of time to roam around Thamel and nearby Basantapur buying souvenirs and trinkets for your friends and families. 
Day 21– Departure from Kathmandu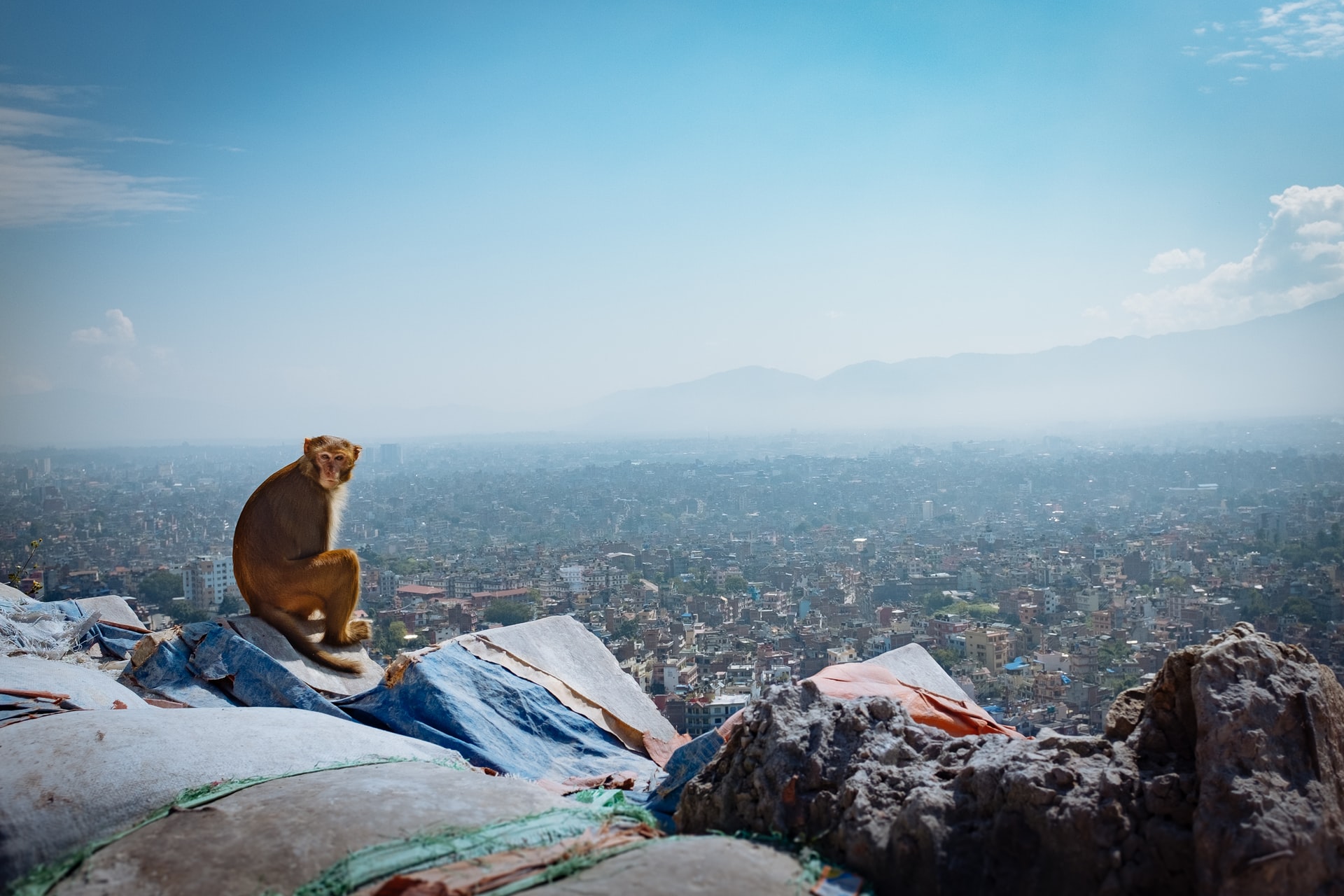 Today you will take a flight to Kathmandu. After few relaxing hours in the capital, we will arrange for your ride to the airport. Your once in a lifetime adventure where you set forth to touch the sky and walk on the clouds ends here. You will depart with a great experience, heart filled with memories and camera filled with photos to preserve it.  Well if the adventurer in you gets fidgety again remember there are more routes to conquer in Nepal.
---
Pricing Catalog
More than 12 pax: $2,500.00
Pricing may vary from time to time depending on season. Please consult us over WhatsApp for latest offer rates.